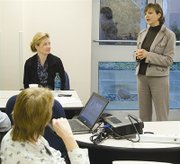 Longtime Sunnyside physician Lloyd Butler had a vision for a medical university in this area.
That dream has been realized in recent years in the form of Pacific Northwest University of Health Sciences in Yakima.
Two representatives from the university spoke to the Sunnyside Daybreak Rotary Club this past Wednesday.
Julie Finley is the director of community development for the university, and she said the reason a rural area like Yakima County was chosen for the university is because there is a predicted shortage of 35,000 primary care physicians in this country by 2020.
Finley explained that medical students from rural areas that attend medical school in a rural area are more likely to pursue a career as a primary care physician.
Students also train with physicians in Sunnyside, Yakima and Toppenish, given them an even better picture of work as a primary care physician.
Also speaking Wednesday morning was LeAnn Hunter, director of enrollment services. She said initial concerns that students may not apply to medical school in Yakima were unfounded, as each year the university receives about 2,300 applicants.
Of that total, a pool of 250 finalists are interviewed on the Yakima campus before whittling that down to a class of 75 students newly enrolled each year..
Hunter says the first two years are spent extensively on campus, with students essentially completing four years of credits in just two.
In the third year, she says students start doing rotations between sites in Sunnyside, Yakima and Toppenish.
Hunter said in their fourth year at Pacific Northwest University of Health Sciences, students start making their residency applications and honing in on their medical career choices.
Hunter said the focus now is also on having more residency opportunities in the Pacific Northwest. She said there are less than 2,000 residency opportunities in the Northwest, compared to 6,000 in the state of Michigan alone.