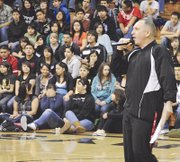 It will be a busy final trimester for students and staff at Sunnyside High School as they continue to work hard in bringing about significant improvement in academics, attendance and citizenship, but yesterday (Wednesday) the students and staff took a few minutes to recognize some of their successes so far.
With 55 days of school left before summer (51 for seniors), students received a message at a special assembly that commended them for their hard work and encouraged them to continue to push themselves and each other toward success.
Among some of their achievements, the staff recognized the 142 seniors who have finished and received passing grades on their senior projects. However senior projects are not yet complete and the rest of the class will give their project presentations in May.
Some of the most impressive numbers delivered yesterday involved all of the classes. The number of students passing all their classes is up, on average, 20 percent over last year, when students passing all their classes ranged from about 50 to 60 percent.
Exact numbers for this year will not be available until the end of the school year.
Sunnyside High School Principal Chuck Salina revealed that these numbers are actually a drop from last trimester. While still promising, it is important that students continue to focus on their academics, seek assistance and improve their standing, he said.
In attendance, freshmen and seniors have posted a 94 percent rate this school year. Sophomores and juniors trailed, barely, with a 93 percent attendance rate.
Tardies are also down, but Assistant Principal Wally Shearer issued a challenge for next trimester: the last class with zero tardies will receive a pizza party.
The Sunnyside Has Character initiative continues on to its second month, as well. Students at Sunnyside High School received 150 to 170 wristbands for displaying last month's character, trustworthiness, but they hope to increase that number this month, which will focus on respect.
Athletic Director Bill Daley said students can show respect throughout the month by having respect for themselves, the school staff, their classmates and the school environment and facility.
The assembly also recognized the Sunnyside High School band for achieving an excellent rating at a competition on Tuesday. The Grizzly dance team, wrestlers, drama production students, science fair participants and engineering club were also recognized for their achievements in 2010-11.
While the school has made some great strides toward improving achievement, the work is not done at the high school. School staff hopes students will continue to show up for class on time, everyday, ready to learn because, as Assistant Principal Dave Martinez put it, "Everyday is the most important day."