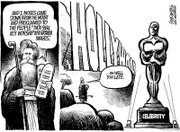 It is awards season in the Lower Valley as Sunnyside tomorrow, Saturday, will hand out community awards and Grandview will do the same next Thursday.
The ceremonies are a good time to reflect on what is right in our communities and honor those who serve, often behind the scenes unknown to the general public.
Just for fun, I've decided in this column to hand out my own community awards for the Lower Valley.
Since the letter F is prominent in the name of my column, we'll call the following best-of awards for 2010 the Effies:
- Volunteer(s) of the year: SHS welding students, Bill Flower and anyone associated with maintaining the flower and banner stands in downtown Sunnyside.
They're attractive and put back some pride into the downtown area. Hopefully they'll find the funds to put the flower baskets up again this year.
- City employee: Cus Arteaga, Grandview City Administrator. In 2010 he not only helped set the wheels in motion for Grandview's downtown beautification, but also helped guide the city through a new joint library project with YVCC.
On top of that Arteaga, with assistance from department heads and the unions, was able to help the city develop a 2011 budget with no pay raises.
- School employee: I thought a lot about this, especially with the progress in math and science among Sunnyside School District students. Ultimately, I have to give the Effie to Chuck Salina, SHS principal.
I have to admit to being a bit skeptical that a principal could turn that school around in a short period of time.
But Salina came to SHS and has brought about whirlwind changes in attitudes and day-to-day life at SHS...even with the difficulties of running a school at the same time it is undergoing extensive construction and renovation.
Here's hoping the agreement with Gonzaga that brought Salina here can keep him here for more than a couple of years.
- Business: This isn't based on the bottom-line or how profitable the business was, but its friendliness and generosity of spirit.
There are several worthy possibilities. The Effie goes to a business that's based on my own personal experience.
Without further ado, the Effie goes to Eli and Kathy's in Grandview.
The reason? Most restaurants require some sort of fee or deposit to use their establishment as a meeting place.
When the time came to find a locale in Grandview for a ice cream/dessert meeting with the children's ministry team at Grandview Christian Church, Eli and Kathy's was happy for us to have it there without paying an extra charge for using their space.
They also were great about letting me keep a running tab to just pay once after everyone ordered.
For now, anyway, I'll wrap up with one more Effie:
- Pioneer: Again, and since it's my column, this award is based on personal experience.
The Effie goes to Wanda Rogers. She has been at Grandview Christian Church pretty much since it began 65 years ago and she is a wealth of history about the church. Her dedication and faithfulness over the years is an inspiration to me and everyone at the church.
For example, recently the church did some improvements to convert a storage room into a new class space.
It was great to see the look on her face when she saw the fresh, new classroom. Then it became a history lesson on the spot as she talked about teaching children in that same room several years ago.
When we held a ribbon cutting ceremony a few weeks later for the "new" room, we had Wanda help do the honors with some of the middle school students who now meet in what was long ago her classroom. The past and present met full circle.
That's all for now. You know, I enjoyed this so much there might just be another Effie F as in Frank during next year's awards season.