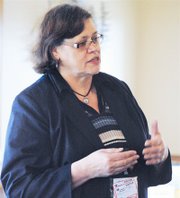 The Sunnyside Chamber of Commerce welcomed guest speaker Julia Hart from the Lower Valley Crisis Center at its Thursday meeting, where Hart spoke to the members about workplace harassment, its effect and solutions.
While employers have harassment policies, Hart says that sometimes they are ignored or fail to be enforced. One reason is that victims are afraid to come forward; they may be embarrassed to speak about the situation or have been bullied or threatened to keep quiet.
"It's really an insidious thing," Hart said. She went on to describe a conversation she had with a woman who experienced a form of sexual harassment.
This woman told Hart one of her employers persistently remarked upon her appearance, telling her he preferred her hair style a certain way, or that he'd rather she wear a particular kind of skirt. The person would also stand too close to the woman.
"It made her feel uneasy," Hart told the group. "It's all about power and control."
Hart went on to say that this attempt at control can reach beyond the workplace and involve outside relationships and marriages.
This sort of harassment, whether physical, emotional or sexual, can make employees uncomfortable.
A current example of harassment, Hart revealed, is the Evan's Fruit harassment case that is working its way to trial.
She said former employees of Evan's Fruit alleged sexual harassment during their employment, but in the case's early stages more allegations appeared, claiming the company and its former general manager, Juan Marin, were threatening and creating an atmosphere of intimidation that were preventing witnesses and victims from coming forward.
"Sexual harassment is alive and well," persisted Hart. She emphasized that both genders are potential victims and people of any age can experience it. "It's like sexual assault - it crosses all races, all economic barriers. It can be anywhere."
Hart later noted that immigrants can find themselves victims of harassment, too. Many don't seek help or report the incidents because they believe they have no rights or they have been threatened with deportation.
But Hart says that stopping harassment is not just an American right, it's a human right.
"If you are being harassed, it is not okay."
The first step to stopping sexual harassment, or any type of harassment, is to speak up, whether that means speaking to the culprit or contacting a higher ranking official.
Hart recommends people call the Equal Employment Opportunities Commission if they have questions regarding harassment. That agency can be reached at 1-800-659-4000.
People can also contact the Lower Valley Crisis Center by calling 509-837-6689.