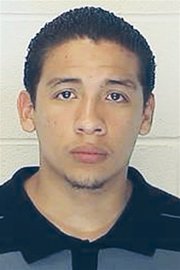 YAKIMA - Last Friday, Raul Robert Alvarez, 19, of Sunnyside was sentenced to nearly 90 years in prison for his role in a July 10, 2010 drive-by shooting and his role in a July 17, 2010 shooting that resulted in the death of 15-year-old David Baldonado of Sunnyside.
"The state alleged that he was one of the assailants who shot at three adults and one small child as they sat on the front step of their home in their Sunnyside neighborhood," said Yakima County Prosecutor Gary Hintze, who tried Alvarez in both cases.
The July 10 shooting occurred on Hemlock Avenue, and Alvarez was charged with four counts of first degree assault, drive-by shooting and unlawful possession of a firearm second degree in a drive-by.
He was sentenced to 1,065 months in that case.
The jury handed down a harsher penalty because it found the crimes Alvarez was responsible for carried a gang enhancement.
"Judge Blaine Gibson gave an exceptional sentence due to the gang aggravator of an additional 60 months on each of the four counts of first degree assault," said Hintze, stating that amounted to 20 years in prison.
For the July 17 murder of Baldonado, Alvarez plead guilty on Dec. 27, 2010 to a first degree rendering criminal assistance charge connected to his role in the murder. He was sentenced to 43 months to be served concurrently with his other sentence.
Alvarez, said Hintze, aided the gunman, Alex Bueno, whom he knew committed murder by providing him "with transportation or other means of avoiding discovery or apprehension."