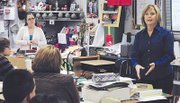 Parents and students packed the room and lined the walls of 8th grade literacy teacher Jessica Sarmiento's Harrison Middle School classroom last Wednesday evening.
Sarmiento is attempting to assemble a group of students for a June 2012 educational excursion to Washington D.C. to experience history and government firsthand. The program is not a school organized function, but is being offered through WorldStrides, a highly recognized student travel establishment.
Guests at the meeting heard from Selah's Nicolai Kreger, who represented WorldStrides and answered questions from curious parents and students.
The program can accept up to 35 students and Sarmiento is hoping to take students who will be 8th to 11th graders next year.
The agenda for the educational expedition is expected to include Mt. Vernon, the Smithsonian, various memorials and a visit to the White House, among many other significant government and historical locations.
While this trip is not school sanctioned, Sarmiento plans to take students with a history of good behavior and academics.
The cost for the trip is just under $2,000, but with more than a year to prepare, Sarmiento is already working on establishing fundraising opportunities.
For more information, or to find out how to donate to the students hoping to attend this educational opportunity, contact Sarmiento at 509-391-5445.
People can also learn more about WorldStrides by visiting www.worldstrides.org.