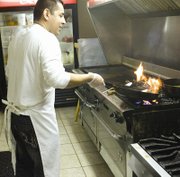 One thing Sierra Rivera, Duran Rivera and Calixto Rivera can all remember is the home-cooked meals their mother, Rachel Ruelas, would make them while they were growing up in Mabton.
It's the type of meal they expected when growing up and now they hope to pass on that expectation in Sunnyside. They want everyone that comes to eat at their new restaurant to expect a home-cooked meal.
The siblings have been doing that for about three weeks now. That's how long it's been since they opened Mi Tesoro Family Restaurant at 809 Yakima Valley Highway in Sunnyside.
"We wanted to try something new that's really family orientated," Sierra Rivera said.
One thing they noticed about Sunnyside is there aren't many places to get a good, home-cooked morning meal.
"We wanted to have a place with a good, wholesome breakfast," Ruelas said.
Why start a family style restaurant now? The children's grandfather passed away a couple of years ago and left the kids some money. They pooled their resources to start up the new restaurant.
The building has been remodeled and soon there will be an outdoor patio area for customers.
The menu features breakfast, lunch and dinner items. The restaurant's main food fare is Mexican but American food is also served. Breakfast is the driving force behind the menu, however.
Just about any type of American breakfast is served, as well as more traditional Mexican breakfast dishes, such as huevos ranchero and huevos divorciados.
"The food is very different here, it's very authentic," Sierra Rivera said.
The siblings give the credit for that to their chef, Luis Guzman.
"He came up with the menu," Duran Rivera said.
Sierra Rivera added that Guzman has knowledge of several types of cuisine.
Seafood is a main staple at Mi Tesoro, as well. Ruelas said shrimp is used in main entrees, soups and cocktails. Octopus also finds itself on the menu.
A majority of the food is either steamed or grilled. There is very little frying.
As a nod to their close family ties, the family decided the restaurant's tables wouldn't be numbered to designate them. Instead, each table has the name of a family member.
So far business has been promising. Already the restaurant has its regular customers. The home-cooked meals are made from scratch and cooked to order.
"It takes a little bit longer but the taste is so much better," Ruelas said.
The eatery can accommodate up to 50 people and soon it's hoped the restaurant's drive-thru will be in service. Ruelas is in the process of getting a license to serve beer and wine, as well.
The hours of operation are 8 a.m. to 9 p.m., Tuesday through Sunday. The restaurant is closed on Mondays.