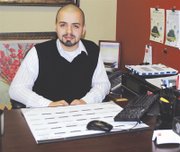 Humberto Rodriguez has spent much of his life in Reno, Nev., but this former Sunnyside resident returned six years ago to put his experience to work for local businesses.
Rodriguez was born in Prosser and raised in Sunnyside until he was 12-years-old. After moving to Reno, he graduated from high school and took an unusual path to where he is today.
After school, Rodriguez was hired as a general laborer for Reno Truss. He was later promoted to safety manager and then he moved into human resources.
An opportunity came up to work for a staffing agency and Rodriguez took it. Most recently, he was working for a Kennewick-based company that oversaw seven staffing agencies in Washington, Utah and Colorado.
But now Rodriguez is putting his knowledge and expertise together for Lower Valley businesses through his new company, HR & Associates, where he offers businesses a wide variety of assistance.
"It's basically your one-stop shop for any small business," Rodriguez said. "They can come into this office and take care of everything they need."
Rodriguez and his associates are offering small businesses assistance with everything from staffing, to human resources and bookkeeping. The business also offers transaction recordings, accounts payable and receivable, help with employee manuals and policy handbooks, design and marketing and even drug testing.
"I just hope to be an important business resource in the Lower Valley," Rodriguez revealed.
Operating a small business can be a real headache, he said. People find themselves working a job they love, but paperwork and policies can bog a small business down and it is these people that Rodriguez hopes will seek him out. His service fees are competitive and customized programs will provide his clients only with the services they need and want.
Rodriguez is also looking to develop a strong resume pool to offer clients who are seeking qualified employees. Submitting a resume to HR & Associates is free to those seeking jobs, and Rodriguez is looking for people with general skills to professional experience.
"We all have bills to pay - we all have families," Rodriguez said. "If I help someone get a job and pay their bills, that makes my day."
HR & Associates opened its doors yesterday (Monday) in Sunnyside at 519 South Sixth Street in suite #4. People interested in learning more about Rodriguez and the services he offers can also call him at 509-837-6399.