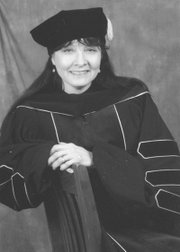 Kris Marks, a 1975 graduate of Sunnyside High School, earned a PhD in clinical psychology from Walden University in Minneapolis this past February.
Marks is the daughter of Don and Ruth Cole of Sunnyside.
Following high school, Marks attended Central Washington University, where she graduated with a Bachelor's of Science degree in 1981.
In 1986, Marks earned a Master's of Science degree in clinical psychology through Eastern Washington University.
Marks currently lives in Walla Walla with her husband, Anthony, and son Isaac. She is employed at Washington State Penitentiary.