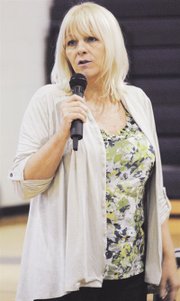 MABTON - Last Friday's Mabton town hall meeting focused on education and creating an environment designed to educate students coming from all kinds of backgrounds.
The first speaker, Susan Martin from ESD 105, discussed the effect adverse childhood experiences can have on people and education.
Martin said, "We don't know about the trauma in the lives of these kids before they come to us."
These experiences can affect a student's ability or motivation to learn, as well as their emotional, physical and social state.
In fact, Martin's presentation showed a direct correlation between criminal activity and adverse childhood experiences in various studies, including one from Pierce County in the mid-1990s.
The study looked at 100 juvenile offenders in Pierce County. They discovered that 17 offenders reported zero to one adverse childhood experience, 50 reported two to three experiences, and 33 reported four or more.
The experiences often focus around the loss or abandonment by a parent, Martin revealed, but they include many other experiences such as the incarceration of a relative, neglect, emotional, physical and sexual abuse, substance abuse, bullying and threats or intimidation.
The way to aid these students is to create a compassionate school system, Martin revealed.
According to The Heart of Learning and Teaching, a resource released by the Office of Superintendent of Public Instruction, creating a compassionate school will help develop successful learners.
The six principles discussed in the guide include empowering students, providing unconditional positive responds, maintaining high expectations, avoiding assumptions, becoming a relationship coach and providing students with opportunities for helpful participation.
These six principles all relate to three compassionate curriculum strategies for teachers to implement within the classroom.
They include making students feel safe, connected and reassured of their well-being in the classroom, providing emotional and behavioral self-regulation so students can identify and name their feelings and bodily states, and finally boosting their social and academic skills, as well as their belief in themselves.
But Martin warned those at the town hall meeting that teachers are endanger of experiencing burn out, compassion fatigue and vicarious trauma.
"Trauma is like ripples in a pond," Martin revealed. Teachers, staff and community members who are able to get students to open up about their adverse childhood experiences share a part of the trauma and so it is important to develop resiliency.
Martin says teachers can do this by learning how to care for themselves, emotionally and physically, and in many other ways.
Martin said, "You can't teach what you don't know; you can't lead where you won't go."
Dr. Donna Beegle, the second speaker at the meeting, knew what she taught those attending the meeting - indeed, she lived it.
Beegle addressed poverty issues and she used her own life experience to give an account of how a child in poverty can react to the world around them.
"Kids don't all start off the same," she said.
Beegle revealed that a child born into poverty today is even less likely to receive their education than one born into poverty in the 1940s.
Back then, Beegle said that poverty, racial restrictions, religious beliefs and gender were considered factors when students did not receive their education.
Today, the two main factors are race and poverty. This is particularly detrimental today because there are fewer jobs on the market who accept students without an education than there were in 1940.
Beegle comes from a family that experienced generational poverty. She explained that means her family worked during the day so they could eat at night. Their concerns were not focused on paying rent next month, or buying food next week. They were concerned with making it through the day.
Beegled said growing up in these conditions makes education hard.
"Imagine giving a student in those conditions an assignment due in two weeks."
Students in these kinds of situations are less concerned with the assignment because they are just trying to make it through the day. Getting a good grade isn't a strong enough incentive, Beegle said.
"All humans are motivated," she said, "but incentives need to make sense."
Getting an education is not often an incentive for students experiencing extreme poverty. Beegle said getting to school is often a great accomplishment.
"We all want to learn, but some of us have been taught that education is not for us."
Beegle was one of those who believed that education was for other people. While she has her PhD now, Beegle did not get her GED until she was in her late 20s. Many of her family members, including her brothers are illiterate and Beegle says she is the only one in her family who has not been incarcerated.
"Poverty feels like war," Beegle said. "Poverty feels like survival."
In a video shown by Beegle, one of her brothers revealed the steps that led him toward a life of crime. He recalled seeing his parents struggle to live and then seeing people live in big houses, with more things than they possibly needed. It made sense to him to take from those affluent people to help those who are barely surviving.
Beegle also revealed that living in poverty does not teach students to trust. In fact, she says that she still feels uneasy when she sees a police officer.
The presentation was designed to encourage people to seek facts about poverty. Beegle says there are lots of misconceptions about poverty and facts are lost among people who are quick to pass judgment on those living in poverty.
One fact that Beegle pointed out is that the U.S. Census Bureau reports that the average person living in poverty has 1.7 jobs and they still can't make ends meet.
"We cannot enable a human being who does not have their fundamental needs met," Beegle said.