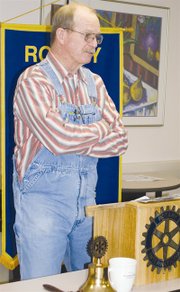 A Lower Valley tradition ongoing for more than 50 years continues this week with national and regional shooting dog trials on the 20,000-acre Sulphur Creek Ranch near Sunnyside.
Rick Anderson owns the ranch and this morning, Wednesday, shared a bit about the trials with the Sunnyside Daybreak Rotary Club.
The competitions, all taking place this month near Sunnyside, include the National Chukar Championships, as well as the Oregon Shooting Dog Trials, as well as the Pacific Coast Championships.
Anderson said the events, in which dogs track chukars released into the wild, were held in Prosser starting in 1959 before moving to the Sunnyside area 26 years ago.
The competition judges how well dogs are trained to not only locate chukar, a quail-like bird, but to sit still when the birds are found.
The birds are not shot during the competition. Dog owners, trainers and judges monitor the dogs' success by following on horseback.
Anderson said there are anywhere from 30 to 50 people who come from around the country to participate in the dog trials. Each one is accompanied by anywhere from 20 to 40 dogs, he added.
Anderson said about half of the participants rent out motel rooms in Sunnyside.
In a Daily Sun News report on last year's dog trials Anderson's daughter, Amy Means, estimated each dog brought here generated $1,200 in business with local merchants. That included meals and supplies purchased here during the nearly month-long dog trials.
Anderson said the public is invited to come out and watch the trials, which begin around 7 or 7:30 a.m. Sulphur Creek Ranch is located six miles north of Sunnyside on Lewandowski Road.