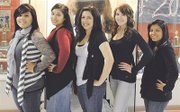 Sunnyside High School students Rosario Rodriguez, Ariana Romero and Emily Wolfe have been selected to represent their school and community at Evergreen Girls State in Ellensburg.
The 65th session of the program will again be held on the Central Washington University campus. This year's convention will be held June 12-18.
Classmates Yunuenn Garcia and Addie Palencia were selected as alternates.
The delegates will focus on city, county and state government at the conference. During the week they will have the opportunity to participate in the legislative, executive or judicial branch of government, where they will elect people to various positions, learn how to write bills and follow the process each bill takes in becoming law.
Along will many other activities, they will hear from a variety of speakers representing various occupations and have the opportunity to meet other ambitious young women representing high schools from around the state of Washington.
It is the hope of the American Legion Auxiliary, sponsors of Evergreen Girls State, that this week in Ellensburg will not only teach young women about the value of involvement in government and the responsibilities of citizenship, but will also open many future doors for those who attend.
The delegates will also have the chance to earn four college credits through Adams State College.
While at the session, delegates will be assigned living groups, or "cities," named after women of achievement. Among them will be a cities named for astronaut Bonnie Dunbar, Sen. Patty Murray, Sen. Maria Cantwell and Gov. Christine Gregoire, who was a Girls State delegate following her junior year in high school.