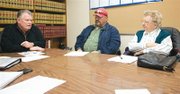 The Sunnyside Parks and Recreation Commission elected new officers for 2011 at a meeting held yesterday (Wednesday).
Kari Zapata was elected president (chair) of the board by a 3-2 vote. She and former president of the board, Dorothy Aiken, were the two nominees. The board then elected Doug Rogers to serve as vice president (vice chair).
Their terms will be up at the end of this year.
In other news at yesterday's Parks and Recreation Commission meeting, Byron Olson, deputy city manager and chief financial officer for the city of Sunnyside, spoke briefly about the formation of a park district.
Olson said the issue will be brought forth at the Sunnyside City Council workshop meeting on Monday, April 4.
"We will present what's necessary to form a metropolitan park district," he told the commissioners.
A park district, Olson explained, is a special purpose district that's sole focus is on parks and recreation. There are two ways a park district can be formed, according to Olson.
One way is to have the district's boundaries be determined by the city limits. If this was the case, Olson said the city council could act as the park district's board or an independent five-member board could be elected.
The second way to form the district is to use other boundaries, such as the school district's boundaries. In this case, Olson said, the city council wouldn't be allowed to serve as the district's board, instead an independent elected board would be required.
Before any park district could be formed, however, the public must vote on it. A park district is able to levy taxes up to 75¢ per $1,000 of assessed property value.
Olson told the commissioners that at the April 4 city council meeting Greg Falk, president of the Boys and Girls Clubs of Benton/Franklin County, will give a presentation on these clubs and what it would take to bring that to Sunnyside.