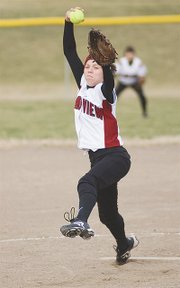 GRANDVIEW - It's early in the season, but Grandview's Ashley Van Tress is on a roll. Counting last Saturday's jamboree mini-games, Van Tress has now thrown 10 innings without giving up an earned run and has only given up three hits.
She pitched a gem of a game last night against the Sunnyside Christian Lady Knights, striking out 13 batters over seven innings and scattering three hits. More importantly, she kept her earned run average at nil and threw no walks. Grandview rode the wave of good pitching to beat the Lady Knights 11-3 in a non-league game.
"She's a good pitcher," confirmed Sunnyside Christian Coach Sandy Harris. "Plus, I don't think we were quite ready yet for the season to start, at least not with our hitting."
Sunnyside Christian has had Grandview's number the past few times the teams have met so it was extra exciting for the Greyhounds to get their first win of the season against them.
Grandview scored in the first inning to go up 1-0. Van Tress reached base on an error then stole second. She moved to third on another error and then scored on a passed ball.
But the Knights came back in the third inning by scoring three runs.
Van Tress began the inning by striking out a SCHS batter. Then an error by Grandview's shortstop allowed freshman Jenna den Hoed to get aboard. Van Tress then recorded another strikeout, but a dropped third strike by the Grandview catcher allowed s to advance to first base. A base hit by Grace den Hoed brought home two Lady Knights and another single scored a third run to make it 3-1.
Grandview chipped away at the lead in the third, fourth and fifth innings with single tallies in each frame to go ahead, 4-3.
MariCruz Sanchez scored in the third when she was brought home by a Samanta Castaneda single. Yareli Pedroza scored in the fourth inning when she was brought home by a Gabriela Arreola double. In the fifth inning Van Tress hit a monster triple that went off the fence.
"I thought it was out of there," said Grandview Coach Ramiro Gonzalez.
Chelsie McNabb then brought Van Tress home on a sacrifice ground ball to give Grandview the lead for good.
Grandview erased any thought of a SCHS comeback in the sixth inning when the Lady Hounds erupted for seven runs. Grandview lashed five hits in the frame and took advantage of a pair of Sunnyside Christian errors, two of the nine miscues the Lady Knights had in the game.
"Our team is working hard and I'm happy to see it," Gonzalez said. "This is my first game as a head coach. To start the season 1-0, I'm pretty excited."
Castaneda led the Greyhounds by going 4-for-4 with one run and two stolen bases. Van Tress was 2-for-3 with three runs, an RBI, one triple, three stolen bases and one walk. Pedroza was 2-for-4 with a run and an RBI. Arreola finished 2-for-4 with an RBI and two doubles. Sanchez was 1-for-3 with two runs scored. McNabb was 1-for-2 with a run scored, three RBIs and one double. Hall was 1-for-4 with one run, an RBI and one double. Shafer went 1-for-4 with two RBIs, a run scored and one stolen base. Rikki Verduzco didn't get a hit in yesterday's game but reached base twice on errors and scored once and recorded an RBI. She also had one stolen base.
Sunnyside Christian got a pair of two-hit performances from VanOostrum and Grace den Hoed, with the younger den Hoed, Jenna, accounting for the other Lady Knight hit.
Sunnyside Christian (0-1) is scheduled to play a doubleheader at Naches Valley next Tuesday, March 22.
Grandview next plays a doubleheader at Wapato on the same day.