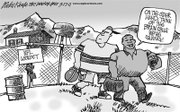 On the same day Japan burned and rocked in the wake of first an earthquake, then a tsunami and then nuclear meltdown this past Friday, the National Football League chose to thumb its nose at common sense.
The contrast, on the same day no less, is unnerving.
On one side of the TV screen you see thousands dead and a country on its knees following one of the worst natural disasters in the past 100 years.
On the other side you see NFL millionaires and billionaires bickering on how best to divide $9 billion ANNUALLY.
While players walk out and owners lock out, the name-calling has begun with one of the millionaire players actually comparing the situation to slavery!
Don't NFL owners and players see what's happening in Japan? Can't they appreciate an iota of the grace and blessing they've received from the game and in turn give back?
During this break in negotiations, my suggestion for the NFL is take say 10 percent off the top of that $9 billion for this year and ship it directly to Japan.
Make it 20 percent for Japan and the greedy goofs would still have $7 billion to fight over.
Assuming this column is published on-line at www.dailysunnews.com, my hope is that NFL, team and player reps somehow stumble across it and at the very least use a portion of their website, www.nfl.com as a fundraising venue for helping Japan instead of the cash cow the site usually is.
That would be a start towards restoring some sanity and humanity to the NFL instead of tearing itself apart.
You and I aren't millionaires like the NFL's minions, but we can help Japan.
The quickest way for the rest of us to help Japan's tsunami victims is to give directly by texting REDCROSS on your cell phone to 90999. The text sends a $10 donation automatically for Japan that appears on your next cell phone statement.
It's not much, but together we can pray and work towards a glimmer of hope in the aftermath of Japan's black Friday.