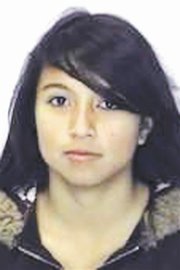 The Sunnyside Police Department is seeking information leading to the location of 13-year-old Jessica Mojica Estrada.
The teen was last seen Jan. 13, 2011 at home. She was wearing blue jeans, a blue sweater, a long coat with silver squares and brown boots.
Estrada is described as a Hispanic female. She is 5'3" tall and weighs approximately 120 pounds. Her eyes are brown and her hair is straight and black. Her hair also fell just below her shoulders at the time of her last known whereabouts.
Anyone with information as to where the young girl may be located is urged to call the Sunnyside Police Department at 836-6200.