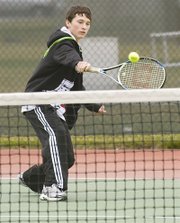 Both the Sunnyside High School girls and boys tennis teams lost to Prosser yesterday, but the non-league season opener didn't go down without some excitement.
The Grizzly boys suffered a 4-3 loss, with wins in the No. 2 singles, No. 1 and No. 3 doubles matches.
Sunnyside No. 2 singles player Javier Aguilar dualed against Rodrigo Bonilla of Prosser for nearly three hours, according to Grizzly Coach David Downing.
He said the match was "well-fought" until Aguilar earned the win in a tiebreaker. The Grizzly won the first set 6-0, but slipped in the second set for a 6-3 loss. He battled back in the third set to come out on top 7-6 (9-7).
In doubles play, Oscar Medina and Uriel Osuna paired up and defeated Prosser No.1 teammates Harley Hall and Brent Keller 6-4, 6-1.
"Oscar Medina and Uriel Osuna played well together for the first time and turned in an impressive win," said Downing.
Sunnyside No. 3 doubles players Josiah Miranda and George Noyola handed Mustangs Gabe Beck and Austin Dennis a straight 6-1, 6-1 loss.
Grizzly Scott Laverman lost to Vaunce Montelongo 6-2, 6-4 in No. 1 boys singles play; No. 3 singles player Ben Zocher of Prosser handed Sunnyside's Anthony Salceda a 6-1, 6-2 loss; and Sunnyside's No. 4 singles player Jonathan Gutierrez was defeated 6-2, 6-1 by Brandon Cromar.
Another Grizzly loss was felt by No. 2 doubles players Iran Brambila and Ricardo Sanchez. The pair was handed a 6-0, 6-2 loss by Prosser's Tim Basen and Kevin Munck.
In girls singles, Lady Grizzly Amanda Villarreal (No. 2) was the lone victor. She defeated Pamela Serrano 6-1, 6-4.
Defeating their Mustang counterparts, too, were girls No. 1 doubles players Emily Meyer and Jessie Robert. The duo dealt Tabitha and Samantha Reilly a 6-2, 6-4 loss.
Grizzly teammates Jill Spini and Keala Drollinger (No. 2 doubles) didn't fare as well against Prosser's Karley Crawford and Helen Peterson, who earned a 6-1, 6-0 win; and Mustangs Kaeli Johnny teamed up with Kasandra Acosta to defeat Sunnyside's Lydia Robert and Adilene Torres in No. 3 doubles play.
In girls singles, three Lady Grizzlies suffered defeat. They include No. 1 player Christine Kim, who lost by identical 6-0 scores in straight sets to Haily Lauren of Prosser.
No. 3 singles player Esme Jimenez of Prosser handed Sonia Romero a 6-4, 6-3 loss; and Sunnyside No. 4 singles player Perla Alcantar lost 6-2, 6-3 to Cathy Yepez.
"We have many new players this year and I am very proud of their progress," said Downing, stating he is looking forward to building on the successes of the Sunnyside team.
Sunnyside next travels to Davis's home courts tomorrow (Saturday).