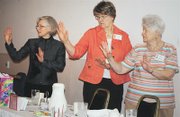 PROSSER - April McNeil brought more than just a message of faith to this month's Lower Valley Christian Women's Connection meeting, she also shared self-defense tactics.
McNeil has a second degree black belt in martial arts and she spoke to the women at Tuesday's meeting about using basic moves to protect themselves.
"We don't know our limits and never expect to have to go there," she said, but having some key tools at your disposal can help turn a terrifying situation into a story of survival, she explained.
The first step to protect yourself is using your mind and being wise, McNeil said. Identifying potentially dangerous situations and unusual circumstances can save lives.
As an example, McNeil said that people who return home and notice lights on in the house when they know they had turned them all off should seek assistance and, at least, find a friend before entering the residence.
Two other important traits that help people defend themselves are strength and stability.
"Strength comes from your abs," McNeil said. Women should work on strengthening their abs through simple exercises.
Creating stability has to do with maintaining muscle strength, but if someone is attacked, McNeil says they should firmly place their feet on the ground, sweep one foot behind them to stand angled away from their attacker and bend their knees.
"The more control you have over yourself...the more options you have."
Many of McNeil's techniques involve using weak points on the attacker to the best advantage. She mentioned bending an attacker's pinky finger in an unnatural direction to get them to release their hold.
Kicking is also a good move, but McNeil warns that stable stances are a prerequisite before they kick. If they do, they need to use the side of the foot and aim for the knees of their attacker.
Despite all the advice on physically fighting back, McNeil also said that her personal first line of defense is always prayer.
But while McNeil's faith is strong today, her journey to this place of spiritual contentment was long and complicated.
After her self-defense speech, McNeil told the woman gathered about the many places her spiritual journey has taken her.
McNeil began by telling them about her childhood - about growing up in a home where her fears were frustrating and embarrassing for her father and where faith was never discussed, prayers were unusual and Bibles were not read.
"But I had a deep need to understand why I was here and what life was all about," McNeil revealed.
In college, McNeil began to experiment with different faiths and spiritual ideas. She says she dabbled into metaphysics, looked at everything from astrology to astro-projection. She even learned about white witchcraft and the black arts.
McNeil also recalls spending days in Native American sweat lodges eating peyote. She learned about self hypnosis and mind control, and even practiced Eastern meditation every morning and evening in her search for self-realization and enlightenment.
"I did not believe evil existed," she said. "I believed that darkness and light were inseparable opposites with no judgment involved."
McNeil recalled a friend who gave her heart and life over to Jesus during their friendship. It struck McNeil that this friend had found a faith and spiritual wholeness that was deeply personal and profound.
But McNeil resisted finding it herself, even when that friend gave her a Bible.
"I took it to be polite," McNeil recalled. "I didn't even open it for a year."
When McNeil did open it, after discovering that her martial arts master was a Christian, she found that her ongoing search for truth and understanding could be found within those pages.
"I learned that Jesus has the power to change us," she said, that sin was putting her own desires over her relationship with God.
McNeil calls this journey with God the most exciting adventure of her life. She says that her relationship with the Heavenly father is stronger than any her earthly father had to offer.
"God is never embarrassed - always comforting. That was something (my father) could never be."