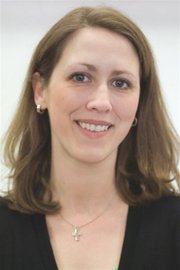 Like a lot of people revolving here on earth Jessica Schenck is fascinated by space. Unlike a lot of people here on earth, she will spend five days studying space at a camp in Huntsville, Ala.
Schenck, who teaches fifth graders at Chief Kamiakin Elementary School in Sunnyside, recently found out she has been selected to attend the Honeywell Space Academy for Educators this June.
The five-day camp is designed to provide astronaut type training through simulated shuttle missions and simulations of walking on the moon. The teachers will also simulate working in the frictionless environment of space.
Schenck said she applied to be accepted to the program because she finds space fascinating and a new science curriculum includes studies on space.
"I wanted to learn more," she said. "Space can be a hard subject to teach 10-year-olds.
"This will give me an opportunity to have first-hand knowledge of what astronauts go through. The only better experience would be to go to space."
Schenck is just one of 220 teachers from around the world who was selected to attend the camp. All expenses are being paid by the Honeywell Corporation.
She said the studies will include classes on gravity and the engineering behind rockets. Through simulation Schenck said she will actually get to experience what the gravity is like on the moon.
"There will be a lot of physical, hands-on stuff, as well as academics," she added.
Her goal by attending the space camp is to be able to better explain the concepts of the vastness of space and how it is explored.
"I'm hoping to be able to teach that much better," she said.