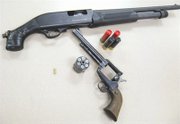 Sunnyside police Wednesday responded to a report of a fight at Kiwanis Park on Doolittle Avenue just after 3:30 p.m. and arrested five subjects in connection to the incident.
Police say witnesses told them the suspects involved in the fight fled the scene in a white vehicle and were last seen traveling north on Cemetery Road. The vehicle, identified as a 1991 Cadillac El Dorado, was located near Van Belle Road and, after officers attempted to a traffic stop, accelerated in speed.
Officers pursued the suspect vehicle which reached speeds in excess of 70 miles per hour on dirt roads, for about 3.5 miles. The Cadillac crashed into a hay bale, according to Sunnyside police.
Five occupants of the vehicle fled the scene of the accident on foot and officers were led on a foot pursuit before subduing the suspects.
A 17-year-old Sunnyside male is believed to have been the driver of the Cadillac and he is facing two counts of unlawful possession of a firearm, possession of a stolen firearm, eluding, driving while license suspended second degree and obstructing law enforcement.
Four other suspects were taken into custody, and police have identified them. Giovanny L. Reyes, 18, of Sunnyside was taken into custody. Charges of disorderly conduct and obstructing law enforcement are being sought for his involvement in the incident.
Also, requested charges of disorderly conduct and obstructing law enforcement are being sought against Elias R. Mendoza, 19, of Outlook and Eric M. Antunez, 18, of Sunnyside. A second 17-year-old Sunnyside juvenile male was taken into custody on a requested charge of obstructing law enforcement.
Sunnyside police executed a search warrant on the vehicle and recovered a loaded .357 revolver and a 12-gauge shotgun. The shotgun was reported stolen from a resident in Hermiston, Ore.