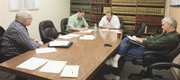 Sunnyside Public Works Director Jim Bridges updated the subcommittee on public works last night about projects the city's public works department is currently working on.
The biggest news came from a recent ruling from the U.S. Court of Appeals for the 9th Circuit Court. Bridges said the court ruled that the county of Los Angeles is responsible for excess stormwater discharges into two rivers containing pollutants at levels above permit limits.
Basically what this means, Bridges explained, is that Sunnyside will be responsible for any contaminants that move through the city's drains, even it doesn't come from the city.
For example, contaminants can work their way to Sunnyside from Outlook. Even though the contaminants are from Outlook, if they make their way to Sunnyside and through the drains to the Yakima River, then it's the city that's responsible.
Bridges said the city has 60 outfalls, where water enters the drains around Sunnyside.
"It could force us to monitor and possibly treat the stormwater before it goes into the drain," he told the subcommittee.
A new stormwater permit will be issued in June 2012 and Bridges said the permit will require the city to monitor the outfalls. This will mean a person must take samples at the outfalls if it rains.
"This will be a huge burden," Bridges added.
He said the number of outfalls will need to be reduced to make it feasible for the city to monitor stormwater.
Bridges also updated the subcommittee on work planned for the softball fields at Sunnyview Park. The Lower Valley Softball Association will perform some work on the fields in exchange for reducing some of the fees the league must pay the city to use the fields.
The field will be covered with a dirt, sand, clay mixture and a new faucet will be installed to allow for more water.
Bridges also informed the subcommittee that a water system plan is being sought by the Department of Ecology. Bridges said the plan is required to be completed every five years and he said the plan should be completed in April. The plan will have information such as water rights the city has and what it's doing for conservation.
Also, an airport environmental assessment will begin soon, Bridges said. Bridges said engineering firms are being interviewed. The firm that's chosen will put together a plan to clean up DDT contamination from the 1970s. The plan must be approved by Ecology.