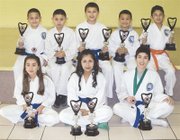 YAKIMA - All eight Sunnyside youths who competed at this past weekend's Central Washington Karate Championships in Yakima brought home trophies.
All told, the eight students, who competed at different levels, combined to earn 11 trophies.
Cristian Martinez earned first-place honors in both Kumite (sparring) and Kata (defensive moves).
Mark Aranda also garnered first place hardware in both categories for the Sunnyside group, which is part of the Northwest Taekwondo Association.
Elexis Ortega garnered first place in Kumite, while Johnny Kranz claimed top honors in Kata.
Maribel Macias was runner-up in Kata, and brought home the first-place trophy in Kumite.
Ulysses Gutierrez and Mario Saldana claimed first-place honors in Kata, while Johnathon Ortega was second in Kumite.
The students are taught by Master Rocky Gonzales, a ninth-degree black belt.
Gonzales said there were two keys to his students' success.
"They like it and they've been training hard," he said.