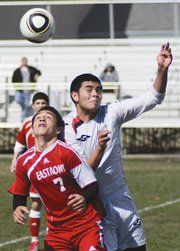 It took 89 minutes and change before the Sunnyside Grizzlies finally found the back of the net at the end of the match's second overtime to beat visiting Eastmont 1-0 this past Saturday.
"It was a tough game," Sunnyside Coach Juan Pineda said.
It's almost guaranteed the Wildcats' coach feels the same way. For the third straight match, fifth if the March 11 jamboree is counted, Sunnyside has yet to allow its opponents a goal. Since the season started, this is the third straight shutout the Grizzlies have posted.
"Kudos to our defense, they haven't been scored on yet this year," Pineda said.
He pointed out the play of defenders Jose Mora, Isaac Meza, Humberto Bermudez, Bradley Lopez and Omar Vergara as being the key to that.
The Grizzlies knew the match wasn't going to be easy. Pineda said Eastmont is very good in all three of its lines; defense, mid-field and the forward position.
Even so, the Grizzlies took control of the match immediately.
"They couldn't keep up with us," Pineda said. "They tried to establish their style of play against us, but we took control of the ball, which gave us an opportunity to move the ball forward."
Pineda said his team had at least five golden opportunities to score, but missed them all. When Sunnyside failed to hurt the Wildcats, Eastmont was able to begin reading Sunnyside's plays, which allowed them to play even with the Grizzlies.
"If you miss the early ones you give life to your opponents," he added.
The second half was a back and forth affair as both teams played hard.
"I had confidence we were going to score, but Eastmont wouldn't give it up," Pineda said.
That was until the final minute of the match before both teams were about to go to a shootout. In the final seconds of the second five-minute overtime period, Alfredo Gomez received a pass from Jose Amador. Gomez battled an Eastmont player to get control of the ball and then carried the ball about 15 yards to set himself in front of the 18-yard box.
Gomez took a shot from his right and crossed the ball to the opposite post for the score.
Pineda called it a golden goal because it instantly won the match for Sunnyside.
The Grizzlies had 12 shots on goal and the Wildcats managed seven. Sunnyside keeper Eddie Garcia recorded four saves for the Grizzles. Eastmont's Daniel Romero saved seven shots on goal.
Sunnyside (2-0-1) will travel to Richland on Tuesday, March 22, to play against the Hanford Falcons at 7 p.m.