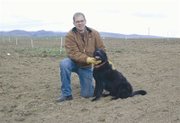 What started out as an idea became reality recently when 25 acres of wheat was planted near North Ray Road as a fundraiser for families in Zambia.
It's a project organized by the local Farmer to Farmer group, in which farmers share their expertise with farmers in poor countries like Zambia.
Jerry Haak is heading up the wheat project, and noted that two Mondays ago the group brought up the idea and by the following Saturday was already planting the wheat.
In between, the group had to work quickly to secure burn permits to clear the acreage of overgrown weeds.
After that there was the business of preparing the ground for planting. Even now, work is still underway to repair irrigation pipes to keep water on the site.
Haak says Farmer to Farmer typically sends $25,000 to $30,000 each year to support Zambian farmers. The need is greater this year, he added, as the AIDS epidemic has created an increase in widows and orphans.
Even if widows and orphans are taken in by other family members, Haak says in Zambian culture there's no guarantee they'll eat or gain proper nutrition. "They eat last after the family has eaten," he said.
As a result, the wheat being grown now will be harvested this summer and sold. The proceeds, which Haak estimates will be about $20,000, will be sent to Zambian families with the proviso that they fully tend to widows and orphans under their roof.
Haak praised the volunteer efforts of so many people to turn the wheat project into reality in less than a week's time. He also praised land owners Don Haak and Pedro Rodriguez for allowing use of their land rent-free.
He says help is still needed in the form of funds for water to irrigate the wheat crop, as well as fertilizer and seed.
For more information or to help with this project, call Haak at 509-949-0604.