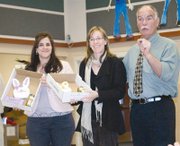 OUTLOOK - The community of Outlook gathered last night for its monthly Stand Up for Outlook meeting and was told of several good things happening there.
Petra Morales, a Readiness to Learn Coach at Outlook Elementary School, has been working on behalf of the community to complete surveys of its residents. She said the survey came out with promising results.
"We went door-to-door to complete the surveys," said Morales, stating residents were posed the same questions on the survey last month as were given them in December 2009.
More than two years later residents were more positive about feelings of safety. Of those surveyed, the residents indicated they feel safer about leaving their homes and trusting their belongings would be safe.
During the daylight hours, residents of Outlook also feel better. They also feel better about allowing their children outdoors to play.
Answers did not, however, change much when posed the question about feeling safe walking down the street at night. And the community believes more recreational opportunities, including a park, are needed.
"We're still digging in there," Morales said of the efforts of the community to improve Outlook.
She said it is important that community members attend the Stand Up for Outlook meetings so they can better become acquainted with one another.
Yakima County Sheriff Ken Irwin also spoke about good news for Outlook citizens. He said last week there was a shooting, but four individuals were quickly apprehended in connection to that incident.
"Thank Deputy Jesse Rojas...he was out working with his drug dog when he spotted the suspects," said Irwin.
He said the shooting was targeted at a couple of the trailers that have been problem properties in Outlook.
Those trailers, said Irwin, are occupied by known gang members "and they are proud to fly their gang colors."
He said the Violent Crimes Task Force is working to alleviate the community of the problems associated with the trailers.
That has been a priority of the community, according to the sheriff.
He said another issue the community members have expressed concern about is the number of dogs running loose.
Irwin said animal control has been alerted to the issue and has placed an emphasis on picking up as many dogs as possible.
He advised those gathered that they can be fined if they allow their dogs to roam freely.
Morales said the community has also been concerned about graffiti and gains have been made in an effort to clean it up.
One home has been a particular target and was recently purchased by a family that did not know its rights and how to respond to the problem. Morales has been working with the family who is eager to paint over the graffiti.
She purchased some paint and brushes to help the family get started.
As for activities, Morales told those gathered there are many opportunities for the community's children to enjoy themselves in after-school events at Outlook Elementary School. Also, the Stand Up for Outlook group has organized a basketball camp Monday through Wednesday, April 4-6.
Morales said more than 150 children are already signed up for the camp and local businesses like Subway, Domino's, Fiesta Foods and KFC have donated meals so the youngsters can have lunch.
She then asked the community if it was interested in having a clean-up event. She said it is important for the community to be a clean place to live.
Irwin spoke again. He said, "We'll (the Yakima County Sheriff's Office) take care of the gangs, you can take care of (the garbage) around your house."
He said clean properties imply the property owner cares about safety and appearances in the community.
Irwin was frank with those gathered. He said deputies see a property owner's concern for the property. That makes the deputies more apt to look out for the property owners' interests.
The next Stand Up for Outlook community meeting is scheduled for Monday, April 25. A potluck dinner at 6 p.m. precedes the 6:30 p.m. meeting. Anyone is invited to attend the free event.