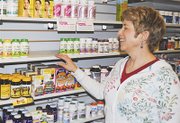 After living in Hanford's shadow, one might think Sunnyside residents aren't prone to radiation panic, but the recent nuclear meltdown scare from Japan has had people all over the west coast racing for their local nutrient supplement suppliers.
Sunnyside is no different.
While Mary Van de Graaf, owner of Vibrant Health Foods & Vitamins, says she has never carried a large stock of iodine-related supplements, the store did sell out of what they had in store.
The two items customers gravitated toward were the store's supply of potassium iodide drops and kelp pills. Van de Graaf says she only had a total of 10 or 12 bottles of these items.
People concerned about radiation poisoning turn to supplements like potassium iodide as an "anti-radiation" solution.
While Van de Graaf says it may be a good idea to keep potassium iodide in the home, especially considering our city's proximity to Hanford, it is not something people should over use. Too much potassium iodide can inhibit the thyroid gland. She also says people should consult their physicians if they plan to take potassium iodide and iodine pills or tablets.
Kelp is a much safer alternative, according to Van de Graaf. The pills sold at Vibrant Health Foods & Vitamins contain iodine that can be used to treat thyroid problems, but she says they contain a number of other nutrients that are good for the body.
Yolanda Bissonette, an employee at Vibrant Health Foods & Vitamins, said that many people who came in went online and did their own research before coming into the store.
"People are just concerned about the radiation," she said, but adds that she is concerned parents may overdose their children. "I wouldn't want mothers dosing their children without talking to their doctors."
Evidence of the radiation scare is clear across the Yakima Valley. She says that similar stores from Yakima to Tri-Cities have also sold out their supplies.
Concern is even stronger in California. Van de Graaf revealed her supplier, located in California, sold out of their entire supply in half an hour.
"If I had seen this coming, I probably would have gotten more," Van de Graaf revealed, though she believes people in Washington will be spared any serious exposure to radiation from Japan.
"I don't think people need to be really worried."
But just in case, Vibrant Health Foods & Vitamins have a new supply on the way. The store is located at 1314 Yakima Valley Highway in Sunnyside.