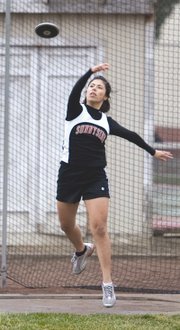 The Sunnyside High School boys track team beat visiting West Valley 89-56 yesterday (Thursday) in a 3A CBBN meet held in Sunnyside.
The girls' team lost 81-65.
Leading the boys was Eric Amaro, who won three events. He claimed first place honors in the 110m hurdles, the 300m hurdles and in the javelin throw.
Teammates Jorge Ramirez and Eduardo Salmeron picked up two wins apiece, as well.
Ramirez placed first in the 100m and the 200m events. Salmeron placed first in the long jump by leaping 19-1.25 and in the triple jump, where he cleared 40 feet.
Other Grizzly harriers claiming first-place finishes at yesterday's meet were Ryan Rice (pole vault), Juan Reynosa (3200m) and Eduardo Cuevas (400m).
Several other Grizzlies claimed second and third place honors, as well.
Audiel Sanchez placed second in the 400m event. Reynoso was second in the 3200m. Miguel Guzman placed second in the shot put and the javelin. Eduardo Salmeron took second in the high jump.
Placing third were Eduardo Salmeron (100m), Ryan White (200m and long jump), Manuel Rivera (800m), Manuel Dimas (3200m), Lorenzo Carbajal (110m hurdles), Elijah Pena (300m hurdles) Andrew Daley (shot put and discus), Fernando Madrigal (javelin) and Rafeal Salmeron (triple jump).
Two Sunnyside relay teams placed first, too.
In the 4x100 relay Danny Perales, Nicholas DeLeon, Sergio Lugo and Jorge Ramirez won the event with a time of 47.02. Cuevas, Ramirez, Audiel Sanchez and Lugo took first place honors in the 4x400 relay with a time of 4:06.35.
The girls were led by Celia Vargas, who had two first place wins at yesterday's meet.
She placed first in the 800m with a time of 2:45.16 and in the 1600m with a time of 5:51.54.
Teammate Samantha Arola had a first place finish in the shot put event when she tossed the four-kilogram ball 27-1.
Kendall Platsman gave the Lady Grizzlies a first place win in the high jump. She cleared 4-8 for the win. Platsman was also second in the triple jump with a distance of 27-10.5.
Ayla Schmick won the triple jump for Sunnyside with a distance of 28-7. She also took second place honors in the long jump.
Sunnyside's last event winner was Geordan Skyles, who pole vaulted eight feet for the win.
Marisa Broersma gave the Lady Grizzles three second place finishes. She placed second in the 100m, the 200m and the 400m events.
Also placing second for Sunnyside were Madison Marquez (800m), Rosario Rodriguez (110m hurdles), Vanessa Alvarez (pole vault) and Tara Van Corbach (pole vault).
Bringing home third place honors for the Lady Grizzlies were Marquez (1600m), Brittney Broersma (110m hurdles), Melina Gonzalez (300m hurdles), Cheyenne Schultz (discus) and Lidia Gonzales (javelin).
One relay team finished first for Sunnyside. Miranda Borrego, Mellissa Amaro, Vanessa Alvarez and Nereyda Barajas won the 4x200 relay with a time of 2:05.99.
Sunnyside will next compete at the Holder Relays in Yakima on Saturday, March 26. The event starts at 10 a.m.