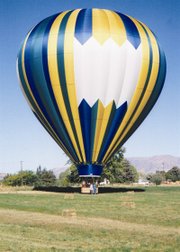 Now that it is officially springtime, residents in the Lower Yakima Valley may find colorful balloons dotting the Prosser sky more often than in previous years. This is because Wine Country Balloon Tour has begun its balloon season and they are excited to bring this unique business to Prosser.
Vic and Mandy Johnson, Larry Simburger and Dawne Rushkarski are the four co-owners of Wine Country Balloon Tour. Together, the group has more than 80 years flying experience. Simburger alone has more than 30 years.
Their years of flying experience are augmented by their day job experience, says Mrs. Johnson.
"We were looking for other people who have some expertise that would help add to the running of the overall business."
The Johnsons work in manufacturing with plenty of management experience; Simburger works at Boeing and has done a lot of project management; and Rushkarski actually owns her own photography business.
The plethora of experience between the owners has allowed them to develop lots of ideas and a solid business plan.
"We're at the point right now where we've got everything together and we're ready to go," said Mrs. Johnson. "We've got some tweaks and that, but we are ready to fly."
The group's balloon tours are designed to be more than just a trip into the sky. The owners are hoping to incorporate as much information and knowledge about the Lower Valley as they can.
In fact, the Johnsons have recently been busy contacting local businesses, including bed and breakfasts, wineries, spas and transportation businesses in an attempt to create a packaged experience for their clients.
"We definitely believe in driving as much business throughout the community as we can," Mrs. Johnson said. "It's not just about us and our business."
She continued to say that they have a captivated audience in the balloon for about an hour and they like to discuss local points of interests.
And this area is certainly a point of interest for the Johnsons and their partners. The group has flown in Prosser's annual Great Balloon Rally for 20 years. They've come to love the community and have recently spent more time in the area. In fact, the Johnsons said they are often asked by people on the Westside if they are moving here.
"One of the things that keep us coming back is the people and the pride of the Valley," said Mr. Johnson.
Wine Country Balloon Tour has seven balloons and four pilots (each of the owners is a pilot). The baskets can fit two people, four people or 10 people.
The 10-person balloon was just acquired by the owners. Mr. Johnson has a history with this particular balloon as he flew it, and several passengers, over Mt. Rainier in 2002 - he was the first person to accomplish this feat.
Balloon trips are a tremendous undertaking and require a crew of about three to four people, but the trip over Mt. Rainier had a 40-person crew, he revealed.
In addition to the balloon tours, the Johnsons offer pilot training and hope to bring some general education classes to people in the area. The Johnsons are also certified balloon repair mechanics, so their knowledge about balloons is very extensive.
Balloon tours are done only once a day, very early in the morning, and they are weather dependent. The owners recommend people pick several dates for their balloon ride, just in case the weather does not cooperate on their preferred date
Regular tours with a traditional balloonist toast afterward costs $250 per person, Mondays through Saturdays. On Sundays, the company will offer a balloon ride and brunch for $275 per person.
With the owners making contacts throughout the valley, they hope to soon offer packages that will include the balloon tour, a stay in a local inn, a trip through wine country and more.
But the balloon tour is an experience in itself, said Mrs. Johnson. "When you get up there - with Mt. Adams there and the Horse Heaven Hills and the Yakima River running through - it's just beautiful."
To contact Wine Country Balloon Tour call 1-888-952-3040 or visit www.winecountryballoontour.com.