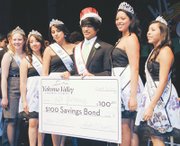 Another year of dances, sketches, music and fun entertained audiences this past Saturday evening as Ali Gutierrez was named Mr. SHS for 2011.
The show was emceed by Sunnyside High School graduate Jazmine Salmeron and Assistant Principal Dave Martinez. The 12 contestants competed in four categories and were also judged for their participation in the program and their fundraising efforts.
The evening also included a final "Dash for Cash" just before intermission, where the gentlemen managed to round up nearly $860, bringing the total amount raised to $7,035, which will be donated to Children's Village's Memorial Foundation.
The contestants escorted their own personal heroes on stage during the formal wear competition. The gentlemen chose one of their parents, a guardian and even their family pet to escort for this competition.
Gutierrez won a $100 savings bond from Yakima Valley Credit Union. Fellow contestant Adam Ruppert was named Mr. Congeniality and won a new bike.
Special thanks went out to Guerra's Coffee Compnay, Bon Vino's Bistro and Bakery, Fashion Corner and Sunnyside Community Hospital for their support and sponsorship of this year's event.