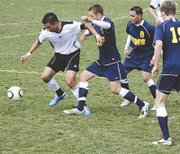 The Sunnyside High School boys soccer team suffered its first loss of the 2011 season this past Saturday when the Southridge Suns edged the Grizzlies 3-0.
"We played good in the technical aspect of the game and how we executed," Sunnyside Coach Juan Pineda said. "It was a very physical match. Southridge didn't allow us to play our style of game. They slowed us down with continuous fouls."
The Suns scored early in the second minute of play when a Southridge player was fouled inside the 18-yard box in front of the Grizzlies' goal. Keaton Hale took the penalty kick and scored.
Pineda said his team picked up the intensity after that for the next 20 minutes and had two opportunities to score. One came in the ninth minute of play when Alfredo Gomez took a solid shot but was blocked by the keeper. Soon after, teammate Javier Contreras took a shot but the Southridge keeper managed to get a hand on the ball that deflected it to the crossbar.
The score remained 1-0 until the 50th minute of play when Southridge's Zack Russell took advantage of a Sunnyside miscue. He stole the ball from a Grizzly and then took a quick shot which beat the Sunnyside keeper.
The Suns picked up their third goal in the 73rd minute when Russell converted on another penalty kick.
"It's my fault," Pineda said of the loss. "I didn't prepare them well enough for this kind of physical match."
Pineda said his team wanted to respond, but he held them back and tried to focus on the original game plan.
"I'm very content with how the kids controlled themselves," he added.
Sunnyside's Jose Mora found himself a victim of Saturday's physical play. A Southridge player slid into him and tore some ligaments. Mora will be out until the end of April.
"It's just one game and we got a lot of season let to play," Pineda said. "We'll learn and I'll do a better job of preparing them next time."
Sunnyside (2-1, 3-1-1) will host Pasco on Tuesday, March 29, at 7 p.m.
this past Saturday.