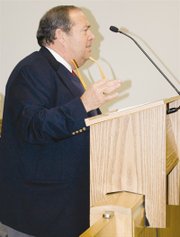 The Sunnyside Municipal Court's prosecutor's and judge's contracts were to expire and therefore those contracts were last night (Monday) up for consideration at the Sunnyside City Council meeting.
A request for bids was advertised and there were four responses for the prosecutorial services.
Katy Hitchcock, said Sunnyside Deputy City Manager and Chief Financial Officer Byron Olson, submitted the bid recommended to council.
Hitchcock currently serves as the city prosecutor and submitted a bid for just more than $62,000. The other bids were submitted by Bronson Faul, Kenneth Raber and the Yakima County Prosecutor's Office. Both Faul and the county prosecutor submitted bids in excess of $100,000. Raber's services would have cost $75,000.
Olson said Hitcock's proposal included a bi-lingual back-up attorney and Hitchcock will save the city "a few thousand dollars."
The contract was approved by unanimous consent.
Unanimous consent was also given in the approval of a contract with Judge Steven L. Michels, who has served on the Sunnyside Municipal Court bench since its inception in 1986.
The agreement, said Olson, has been amended from the agreement the city has had with Michels.
"The caseload has increased, as have the number of days when court is in session," said Olson.
He said state law requires the judge serve as the chief officer of the court.
Olson said Michels has not had a pay increase since 2007 in spite of the additional duties he has had to take on.
"He is also requested when police need search warrants," said Olson.
Having reviewed the agreement, the council agreed to increase the judge's salary from $60,000 to $78,000 annually.
The Sunnyside City Council agreed to the contract, which will expire in 2013.