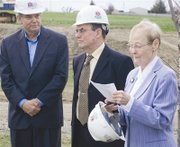 "This is a wonderful opportunity for Sunnyside," Sunnyside Mayor Jim Restucci said just moments before a ceremonial groundbreaking yesterday, Tuesday, to mark the start of work on a major addition to Hillcrest Manor.
The Sunnyside nursing home and rehabilitation center will get a shot in the arm from the new construction dedicated yesterday.
When completed early next year, the 16,000 square-foot, $4 million project, called the therapy pavilion, will give Hillcrest 24 beds in single rooms with a focus on therapy helping patients recover from strokes, hip fractures, open heart surgeries and other issues requiring rehabilitation.
In comments prior to the groundbreaking ceremony, Hillcrest administrator Mary Arthur thanked city officials for their support in getting the project off the ground.
Arthur also thanked the management at Eagle Healthcare for their foresight in constructing the new therapy center, as well as improvements in Hillcrest itself.
Arthur said the new therapy center means more room inside Hillcrest, allowing for renovations that will include converting three-bedroom units to two-bedroom units to give residents more room.
In addition, Hillcrest's existing building will have a new chapel/multipurpose room and an expanded dining room.
The new building means that Hillcrest will be able to increase its total number of available beds from 63 to 80.
Paul Rasmussen is a vice president for Eagle Healthcare, and he said Hillcrest is one of three centers in the Eagle Healthcrest family that is undergoing expansion.
The work here in Sunnyside, he added, will help Hillcrest in serving a geographic area that ranges from Yakima to the Tri-Cities.