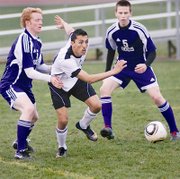 The Sunnyside High School boys soccer team hosted the Pasco Bulldogs last night (Tuesday) at Clem Senn Field and was looking for a win after losing to Southridge last Saturday.
Although the game was competitive and Sunnyside basically controlled the second half, Pasco made good use of three goals in the first half to hold on for a 3-1 CBBN win.
"It was a fun game, fun to watch and a good display of soccer," Sunnyside Coach Juan Pineda said. "It wasn't the result we wanted, but it was a fun game."
The Bulldogs drew first blood in the eighth minute of play when Derek Zimmerman scored to make it 1-0. Sunnyside bounced right back one minute later to get the equalizer.
Pineda said Oswaldo Lopez sent a cross towards the goal and Jesus Gudino anticipated the pass and met it early, sliding into the ball as he pushed it past the Bulldog keeper.
With the score tied Pineda said both teams pushed the ball back and forth, creating several opportunities that neither Pasco nor Sunnyside could convert.
The Bulldogs broke the stalemate in the 34th minute when Abner Chicas got his head on a corner kick and managed to put it past Sunnyside's keeper, Eddie Garcia. Then in the 37th minute, Pasco was attacking inside the 18-yard box when forward Jordan Angeles found the ball and shot without looking. The ball found a narrow opening and as Pineda described it, "The ball just went in."
Pasco was content to take a 3-1 lead into halftime and then held on in the second half to win the game. Pineda said his team was much more aggressive in the second half and the Bulldogs were forced to defend their goal for much of the time.
"They could afford to do that with their lead," he added.
The Grizzlies managed to fire nine shots at Pasco's goal. The Bulldogs in return had 14 shots on Sunnyside's goal. Garcia recorded five saves for the Grizzlies. Pasco's keeper was credited with four saves.
Sunnyside (2-2, 3-2-1) will next travel to Kennewick on Saturday, April 2, to play Kamiakin at 3 p.m.