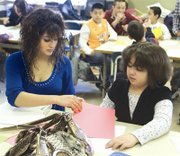 For the past five years Sunnyside High School's family and consumer science program has been teaching students about child development, while at the same time, helping out the parents of elementary-age students.
Cub Care, taught by Roxanne McNerney, is a child development class that focuses on educating students who might want to pursue elementary education some day.
Holly Ohler, director of career and technical education, said the program fits with other classes such as child development, and careers and education.
The program allows parents to drop off their elementary age students at Sunnyside High School early in the morning. Students in the Cub Care class usually take care of about 20 elementary students.
They are fed breakfast and then taken to class where they engage in educational activities in the classroom.
"The high school students are actually the teachers," Ohler said.
She said the class fits a dual purpose. It gives parents a place to take their children in the morning while they go to work. And, for the Sunnyside High School students, it provides a learning environment that allows them to develop lessons and transition those ideas into learning activities.
"All without having to leave campus," Ohler added.
Cub Care is available five days a week. Once the hour is finished the students are bused to their individual schools.
There isn't a lot of space for elementary students and Ohler said the program works on a first come-first serve basis.