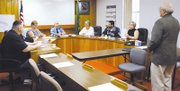 At Wednesday evening's public hearing in Mabton, Maurice Block from Gray & Osborne, Inc. discussed the Community Development Block Grant from Housing and Urban Development that the city will need to apply for renovating the city's water system.
This planning-only grant is open year round, but Block noted that Mabton's current water system plan will expire in September and the system itself is over connected. In order to avoid violations, the city must begin to move forward with a new plan.
Block advised the city to apply for a $35,000 grant through the Community Development Block Grant. Despite the fact that grants are limited to $24,000 for single applicants, Block believes Mabton's current situation could warrant an exception.
Block revealed that 66 percent of Mabton's population sits at low to moderate income.
He also revealed that the current system is operating in the blue status through the Department of Health Drinking Water. The city was approved for 671 connections but has over 900 connections.
"What that translates to, basically, is you're over pumping your water rights," Block said.
The planning process would include looking at the current systems, the system hydraulics, operation and maintenance, and water right's issues.
Block also told the council that the last plan the city had indicated that 700 gallons of water were used per day, per residential unit, but the city is actually using more like 900 gallons.
Councilmember Mario Martinez asked Block what the average is for other towns relative to Mabton's size. Block said that while various factors must be considered, the average for a city like Mabton might be around 390 to 400 gallons a day.
Block said the city will need to act on a resolution to approve the application for the grant. They will also need to set up a grievance program for Mabton residents who feel they have been unfairly treated through the planning process.