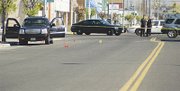 Downtown Sunnyside was this past Saturday just after 8:50 p.m. shut down after police shot and killed a suspect who pulled a weapon on them.
The incident happened at the corner of South Sixth Street and East Edison Avenue near Centennial Square.
Police were in pursuit of a suspect vehicle, described as a Cadillac Escalade, believed to have been involved in a drive-by shooting in the area of South First Street and Warehouse Avenue at 8:45 p.m.
Officers conducted a traffic stop of the vehicle and made contact with the occupants, making the determination to remove the suspects from the SUV.
While removing the suspects from the vehicle approximately four minutes after the initial call, Sunnyside Police Chief Ed Radder said one of the suspects pulled out a handgun and fired upon the officers.
The officers returned fire, killing the gunman.
No officers were injured, according to Radder.
The Sunnyside Police Department was assisted by the Yakima County Sheriff's Office, Granger and Grandview police departments.
Radder said the officers involved in the shooting, in compliance with common procedure and policies, are on administrative leave until the Washington State Patrol can complete a thorough investigation of the shooting incident.
Officials are not releasing the names of the officers involved at this time, and the gunman will be identified after an autopsy, scheduled for 10 a.m. today (Monday), is completed.
Sunnyside Police Department Public Information Officer Charlotte Hinderlider said further details will be forthcoming as the department is able to provide them.