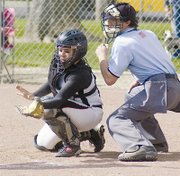 A promising start went for naught as the Sunnyside Lady Grizzly fastpitch softball team lost 16-1 and 19-0 five-inning contests to visiting Southridge this past Friday.
Sunnyside actually looked strong to open the contest, as Lady Grizzly pitcher Marquisa Sustaita set the first two Southridge batters down on weakly hit pop-ups.
Sunnyside couldn't make it three-up, three-down, though, as back-to-back errors opened the floodgates for Southridge to score eight unearned runs in the opening frame.
"We imploded," said Coach Ralph Mendoza. "Simple bloopers that should have been caught would have gotten us out of the inning."
The Suns then tacked on six more runs in the second inning to pull away even more.
The Lady Grizzlies' only hits and only run of the day came in the fifth inning in game one, when Andi Graham singled and Amber Cornwell smacked a double to score the run.
Sustaita went the distance on the mound for Sunnyside in game one.
In game two, the Lady Grizzlies mustered no hits and no runs on the way to the 19-0 loss.
Southridge scored all of its game-two runs on just eight hits, benefitting from several walks and six Lady Grizzly fielding miscues. "We had some pitching control issues," Mendoza said.
The coach praised one of the bright spots for his team in the two lopsided losses.
"She's probably the hardest worker on the team," he said of freshman catcher Johanna Chumley. "She gets beat up every game behind the plate."
Chumley's battery mates in game two were pitchers Cornwell and Rosa Garza.
Sunnyside (0-18) closes out its season at home this Friday with a doubleheader against West Valley.
"Hopefully we can perform well for the seniors," Mendoza said. "We've got to put it all together, hopefully minimize our errors and end on a positive note."
Friday's twin bill will be the last for Sunnyside seniors Alexis Alvarez and Maria Olivera, who leads the team in batting.