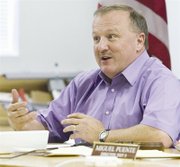 Sunnyside School District Superintendent Dr. Rick Cole gave his state of the schools address last Thursday night to the Sunnyside School Board.
In the address Cole touched on changes the board has made in the past five years that he believes are making a profound difference in the classrooms.
Cole said changes have been made and the curriculum improved.
"Under clear and confident leadership from the Sunnyside School Board of Directors, a statewide school board of the year, 100 percent success is our only acceptable goal," he said.
"Now with the help of the Summit District Improvement Initiative, the high school's MERIT grant and a lot of hard work from our educators, we are realizing significant gains toward that goal."
He noted that Summit and MERIT have required extra time and effort from school staff, but added that extra hard work is paying off by making a difference in the teaching and the learning that's happening now.
Last year the district implemented curriculum guides in literacy and math K-12 that focused on aligning it to state standards. During the current year, these curriculums have been further tinkered with to make them even more effective, Cole said.
"These guides will support our teachers in high quality instruction to ensure that each and every student is getting the best education possible," he said.
He said the MERIT grant, which focuses on providing Sunnyside High School with extra resources and support to increase the graduation rate, has already been a success.
"The teachers and administrators at SHS have made substantial progress in developing a system of sustained improvement and establishing a collaborative culture that is focused on ensuring success for all students," he added.
The news wasn't all rosy. Cole said that math scores have dipped, but even with that, scores are showing an upward trend in grades 3-8. High school reading and math scores remain strong, Cole said, and much has been accomplished in the past few years.
"But we are merely in the beginning stages of reforming our systems and professional practices to realize our goal of 100 percent success for all students," he said. "We still have a ways to go, but what I have witnessed so far has only solidified my belief that not only is that goal possible, but that it is a goal that we will achieve together."
With expected cuts of up to $3.6 million for next year, Cole said 10 certificated and 10 classified positions will have to be cut from the 2011-12 budget. However, he said, retirement and attrition will mean no personnel will be let go.
"This is a very exciting and special time to be part of the Sunnyside School District," he said. "We find ourselves in the position of having a knowledgeable and committed school board, focused and dynamic administrators and a teaching staff that is second to none.
"We have all the pieces in place to make an important breakthrough in terms of student success. We will not let this opportunity slip us by."