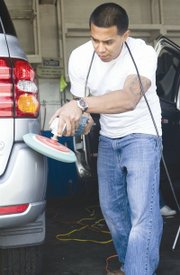 Since the beginning of April it hasn't just been the ladies of Sunnyside visiting beauty salons.
Vehicle owners wanting to spruce up their rides have been taking advantage of Auto Beauty Salon, a new auto detailing shop in Sunnyside.
Located at 636 E. Edison Ave., Auto Beauty Salon is owned by Nick Gamez, who has been in the detailing business for the past three years.
"I wanted to do something different," Gamez said. "I've been doing this for a while and it caught my eye that Sunnyside didn't have a lot of detailing shops."
He started detailing cars in Tacoma and then eventually moved back to Prosser. He then decided to open his own service.
"I wanted to bring this community something good that I could provide," he added.
Gamez offers several packages at Auto Beauty Salon. There is the basic wash and then the extended wash, which includes waxing. More expensive packages include shampooing the vehicle's interior, and degreasing and cleaning the engine.
Packages range in price from $29 to $199, but Gamez said individual services in the packages can be separated. He also intends to beat any price from his competitors.
All vehicles are hand washed and the most expensive package, the one that includes shampooing the interior of the vehicle, takes between four to five hours. He can get just about anything out of the upholstery, including gum, nail polish and children's crayons. Gamez said he can take out minor scratches, water spots and blemishes.
All of the equipment at Auto Beauty Salon is professional. Gamez said he wants his work to speak for itself.
So far that has been enough. He said in the month he's been open his store has been busy. His success, so far, has been mostly by word of mouth.
Gamez employs two employees at his detailing shop. The hours of operation are Monday through Friday, from 8 a.m.to 5 p.m., Saturday by appointment only.
For the month of May Gamez said he is offering a Cinco de Mayo special. His most expensive package, which costs between $189 and $199, is being offered for $159. In June Gamez will offer a special package for high school students that are graduating. A hand wash, polish and wax, vacuum, shampooing and polishing can be purchased for $109.99.