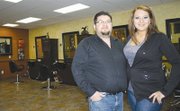 Sunnyside's Studio 242 just a couple of weeks ago moved to its new location inside Electric Beach.
The old location in the 400 block of South Sixth Street, said owners Rudy and Gloria Ruiz, was in need of some updates. Because they didn't own the building, they couldn't complete the updates themselves.
The new location at 318 South Seventh Street is a better fit, the couple said.
Mrs. Ruiz said the location is convenient for clients, providing more parking.
Also, said Mr. Ruiz, the owners of Electric Beach, John and Joyce Dalrymple, are people with whom the couple has been familiar for many years.
The Dalrymples offered to renovate the space previously occupied by Scissor City.
"The timing was perfect...our lease was up and the space was available," said Mrs. Ruiz.
The couple was provided the opportunity to select the salon's design and chose a warm and cozy Tuscany-style motif for the new location.
"Everything came together smoothly...Gloria and her sister did the sponge-painting, as well," said Mr. Ruiz.
At the new location, there are four stations. The Ruiz's use two of the stations and Erika Vasquez uses a third. Soon, said Mrs. Ruiz, Leo Ruiz will join them at the salon.
The family-operated salon offers services for men, women and children.
"We cater to anyone, but families enjoy our services," said Mrs. Ruiz.
She said Mr. Ruiz specializes in men's and boy's hair, while women and girls usually are served by herself or Vasquez.
The couple offers highlights, extensions, coloring, perms, straightening and styling services. Mr. Ruiz also provides hair graphics.
Mrs. Ruiz said she is considering offering manicures, as well.
Studio 242 is open Tuesday through Saturday from 9 a.m. to 6 p.m. Other times are available by appointment only.
To schedule an appointment call 839-7685.
More like this story