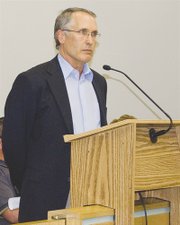 In addition to hearing about the cost of adding beds at the Yakima County Juvenile Detention Center last night, the Sunnyside City Council was provided a presentation on a gang suppression plan.
The plan, presented by Sunnyside Deputy Police Chief Phil Schenck, is for gang elimination.
He said, "We are at war."
That war, said Schenck, was initiated by gangs, whom he said are domestic terrorists.
Making no apologies for his verbage, the deputy chief told council he and Sgt. John Chumley came to an agreement regarding the combat against gangs. The pair worked together on the plan because Chumley will be the gang unit supervisor once the unit is ready for action.
Schenck said the plan includes a vision. That vision is to make Sunnyside the safest community in Washington state.
"It's like going on a trip...you have a destination and that destination is Hawaii. The new vision is our Hawaii," said Schenck.
He said the reason he and Chumley developed the strategy is because over the past 20 years Sunnyside has used other models for gang suppression efforts that have been ineffective.
"We never had a direction," said Schenck.
"We need to know where we are going and change our course to get there without running out of fuel," he said.
Because of Schenck's military background, he said it is important to utilize a counter-insurgency strategy to meet the objectives of the gang elimination plan.
"We can't fix parents, we can't make everyone rich...we can focus our efforts," Schenck said, stating the community has to look at what is and is not working. The community has to come together and stop making excuses for those who choose to become gang members.
"The number one way to get gang members out of gangs early on is to provide consequences," he said, adding, "I don't believe in 'give a gang member a hug'.
They are our enemy."
Schenck said there are several community resources already in place and those resources must work together. They include organizations like Transformation Sunnyside, Sunnyside's Promise, Sunnyside Community Hospital and the various police resources.
"Society is addicted to violence...gang members said (in an NPR story) they were in gangs because 'it's fun'," Schenck said.
He said success can only be achieved through the support of the community, the city council, the legal system and various officers within the Sunnyside Police Department.
"We need more recreation opportunities, I know that," Schenck said, stating he doesn't dismiss efforts of other organizations in Sunnyside. He said those organizations' efforts are important, but the police department and community must be able to work together to utilize the strategies that are most effective.
He said the police department needs to gather and organize intelligence that can be provided by community members and the outside organizations.
"Community members will be the number one resource," Schenck said.
Another crucial element to the success of the gang elimination strategy is public information. Schenck said the community must work together to change the perceptions that tolerate gang activity.
"Fifty percent of students have family members in gangs," he said.
"We need to make it so gangs don't succeed or thrive," Schenck continued.
He said the offensive effort against gangs cannot be gradual, but immediate.
The sanctuary must be removed, and the gang support network must be dismantled.
Chumley had an opportunity to speak and he said the community must go after gangs like Churchill went after Nazi Germany.
"We have to make it so they can no longer influence younger children," he said.
Chumley also pointed out the state of California has recognized gangs as terrorists. Laws there support the fight against gangs and he said it is important that the Sunnyside community also recognize gangs as terrorists.
"We have to be able to touch them where they live," he said.
To do that the Sunnyside Police Department will identify every vehicle belonging to gang members. They will urge homeowners to purchase gun safes and notify employers if an employee is an active gang member.
"We need to make it uncomfortable for family members," said Schenck.
"Hawaii," he said at the conclusion of the presentation.
Just prior to Schenck and Chumley's presentation, Yakima County Commissioner Kevin Bouchey and Harold Delia, Yakima County Superior Court administrator, detailed the cost of additional beds for juveniles at the Yakima County Juvenile Detention Center.
The pair told the Sunnyside City Council they are visiting cities throughout the county to find out if municipal governments support a plan to provide funds for additional beds to lock away violent juvenile offenders.
The cost to Sunnyside, the pair said, would be about $15,000 if assessed by usage. It would be in excess of $26,000 if the costs were calculated based on population.
"We are currently trying to see if there is an interest from the communities," said Bouchey.
Sunnyside Police Chief Ed Radder said he believes additional beds at the juvenile facility would be helpful for law enforcement.
He said juveniles intent on breaking the law cannot have on their minds, "There's no room at the inn."
The council agreed to further discuss the jail bed proposal at a later workshop.
A resolution for the gang elimination plan will be on the active city council agenda for Monday, May 9.
- Jennie McGhan can be contacted at 509-837-4500, or email
JMcGhan@DailySunNews.com