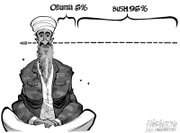 This past Sunday President Obama announced that after years of trying, the United States had finally succeeded in eliminating the head of Al Qaeda, Usama bin Laden.
That's good news. When I heard about bin Laden's death I didn't feel the need to run into the streets, shouting USA, USA, USA, but I was pleased. This man has struck out against us several times, causing thousands of deaths, and has caused us to forget about what makes the United States such a special country, our morals and our freedoms.
But he's dead now and while I think that's a good thing, I'm more excited about the possibilities of what this means.
For instance, doesn't this mean we can start bringing our troops home from Afghanistan?
It's hard to remember what our exact goal was when we invaded that country. I know we wanted to punish the Taliban for giving aid and providing sanctuary to bin Laden. I think we also wanted to bring him to justice.
I had thought the latter was the main reason for going to war in Afghanistan, but after several years in-country, the Bush administration seemed to shy away from that. As a matter of fact, Bush said in 2002 that he wasn't really focused on bin Laden and downplayed the military operation in Afghanistan.
That's why, several years later, when Obama came into office, the reason and goal of why we were there was confusing. The war in Iraq had something to do with that. That war turned out to be far more costly in terms of lives than the action in Afghanistan. This caused the Bush administration to lose focus on what I believe was the real war on terror, and instead focus on Iraq.
Bush just didn't have enough time to complete both objectives, but to his credit he had mostly fixed the mess that was in Iraq by the time he left office.
Obama stepped in and going against what most of his supporters wished, he started to escalate the war in Afghanistan. The Taliban, at the time, controlled most of the country and bin Laden was still very much alive. Thanks to the widely unpopular surge, American forces began to push back the Taliban, denying them what once were their havens.
And now bin Laden is dead.
I think it's now time Obama gives a speech from a U.S. aircraft carrier in front of a banner reading, "Mission Accomplished."
Because to me, it is. The United States has disrupted the Taliban and left it a mess. The former rulers of Afghanistan are still a threat, but I would think after nine years of us training Afghani forces, they would be able to defend their own country. And of course, bin Laden is dead.
So let's declare victory and bring our troops home. It's now time to let Afghani boys do what they should have been doing for the past nine years.