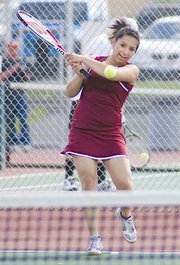 GRANDVIEW - The Greyhounds hosted the East Valley Red Devils in Grandview yesterday (Tuesday). The Red Devils swept the Grandview boys in all five matches, but one Grandview girls team managed to pull out a win for the Greyhounds.
No. 2 girls doubles players Sadie Wyatt and Victoria Chambers defeated East Valley's Leilani Edgar and Amy Wilson 6-3, 6-2 for Grandview's only win of the day.
Grandview Coach Ronda Penwell said, "Good friends Sadie (Wyatt) and Victoria (Chambers) love playing together and it shows on the court. They have made a lot of improvements this year and looked very strong in the match..."
The rest of the Grandview girls did not fare so well. The No. 1 girls doubles match went to East Valley's Sam Simmons and EmmaJo Scherschligt. They defeated Mayra Escareno and CaSandra Hudon 6-0, 6-0 for the win.
Anna Fallstrom and Ashlei Eckert from East Valley won the No. 3 girls doubles match, winning 6-2, 6-2 over Grandview's Gabby Avalos and Karissa Carpenter.
In the girls singles matches, Holly Grimm and Roz Perrault defeated their Grandview counterparts.
Grimm won the No. 1 girls singles match against Jessica Hernandez, 6-0, 6-2. Perrault claimed the No. 2 girls singles match over Hannah Grow, 6-0, 6-0.
The Grandview boys lost all five of their matches.
Grandview's Ryan Rodriguez lost the No. 1 boys singles match to East Valley's Austin Wilson, 7-5, 6-2.
The No. 2 boys singles match went to Cameron Snyder. He defeated Grandview's Ezequiel Zamora, 4-6, 6-1, 5-7.
East Valley No. 1 boys doubles players John Olsen and Sam Johnson defeated Grandview's Angel Lopez and Stevan Ramirez, 6-1, 6-0.
The No. 2 boys doubles match went to Amrit Khinda and Spencer Klein. They defeated Grandview's Ivan Campazano and Abel Pasillas 6-4, 6-2.
Grandview's Marcus Morales and Chris Galvan lost their No. 3 doubles match to East Valley's Garrett Rhynes and Stephen Aiken. Rhynes and Aiken won 6-1, 6-2.
Grandview will travel to Wapato for a tennis match tomorrow (Thursday).