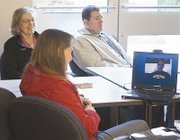 Twenty-first century technology in an ancient land gave Sunnyside Daybreak Rotary Club members a first-hand report of how the Rotaplast mission in India is faring.
This morning, Wednesday, Rotarians gathered around a laptop computer and big screen to visit with club member Tom Lathen, who is in India for Rotaplast.
Rotaplast provides free surgeries for children afflicted with cleft lips and cleft palates.
Thanks to video conferencing software called Skype, people in the room could chat with Lathen face to face. That included his wife, Kathy, who sat in front of the laptop.
He thanked his wife and the club for their support and noted blankets from the Lower Valley have been distributed to patients in India.
Lathen told heartwarming stories, like Rotaplast members who pulled their funds together to buy a wheelchair bicycle for 18-year-old Kalish. He was afflicted not only with a cleft lip and burns, but also polio. "It was the first time he could move on his own," Lathen said of the wheelchair.
This morning's report also turned emotional as Lathen recounted how people were so grateful for the medical care that they bowed and touched his feet. "That's one of the things I'll remember for a long time," he said.
Not every patient who shows up for treatment at Rotaplast can be helped.
Lathen shared how one 60-year-old man came in, but couldn't be helped because he had throat cancer.
In the midst of these emotional swings, Lathen also found humor in day-to-day life in India.
"They drive on the left, the right and the middle of the street," he laughed.
The language barrier creates its own moments, too. Lathen recalled how he and others asked a driver to take them to pick up some garbage bags and he took them to a luggage store instead.
On top of a dawn to dusk schedule that brings hope and healing, Lathen and his Rotaplast teammates have been told to be security conscious in the days after Osama bin laden's death.
"We don't go out alone and we vary our route to the hospital," he said.
Even so, Lathen said he feels safe as the large majority Hindu population in India seems to share U.S. feelings about the terror leader's death.
"The Hindus are happy about what happened," he said.