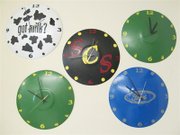 The 31st annual Sunnyside Christian School Booster Club auction will be held on Saturday, May 7, in the gymnasium at Sunnyside Christian High School.
The event is open to the public and admission is free. Besides the auction, a barbecue dinner will be held. Tickets are $12 a person. The menu is typical barbecue fare, including hamburgers, baked beans, potato salad and ice cream.
Money raised from the barbecue will be used to send the Close Up group at the high school to Washington D.C. There the SCHS students will learn about government and how it works.
Money raised from the auction and silent auction will be used for school operations, including the high school and elementary school.
Susan Scheenstra said more than 500 items have been donated for the auctions.
Some of the items up for bid include front row tickets to a Taylor Swift concert on Sept. 7 at the Tacoma Dome. Two sets of four tickets to a Mariners' game are also available. Four tickets to the Mariners' game against the Los Angeles Angels on June 14 were donated by Wilbur Ellis Co., and four tickets to the game against the Kansas City Royals on Sept. 8 were donated by G.S. Long.
Other items up for grabs at Saturday's auction include two loads of hay hauling, a five-night stay in a condo on Birch Bay, a two-night 'Dutch Retreat' in Lynden on the Homestead Farms Golf Course, a one-hour massage from Fodor Chiropractic and three months of dance classes at Meredith School of Dance.
A barbecue for 20 people on the patio at Willow Crest Winery will also be up for bid, as well as 17 Heifer dairy cows.
These are just some of the items that will be available. The doors open at 4:30 p.m. and dinner begins at 5:30 p.m. The live auction, with auctioneer John Topp, will begin at 7 p.m.
For more information call 837-3044 or 837-8995.