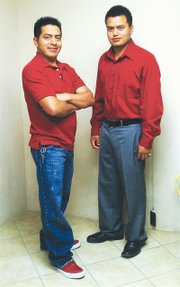 Summer camp was an amazing and inspirational experience for Sunnyside High School senior Hector Trujano, and this year he is working hard to ensure others get the same opportunity he did.
Trujano attended Young Life's Washington Family Ranch last summer and said, "It was a great experience. I had lots of fun meeting new people and learning more about the gospel of Jesus Christ."
When it came to settling on a senior project, he decided he would like to get more involved in the Young Life organization and help other high school students attend summer camp.
For his senior project, Trujano turned to his mentor, Jim Slinker, Director of the Lower Valley Young Life.
It was Slinker who originally approached Trujano about the club. Trujano decided to attend a club meeting after meeting Slinker.
"It's the best club I've ever been involved in," Trujano said.
Trujano marveled at how the Christian youth group reaches out to teenagers from all backgrounds.
"No matter who you are, no matter where you come from, you can be a part of Young Life."
That welcoming environment was never more evident than when Trujano attended the Washington Family Ranch last summer. The camp offered a variety of activities, spiritual guidance and opportunities to meet teenagers from across Washington and Oregon.
When Trujano returned, he was excited to share his experience with other teenagers.
In order to accomplish this, Trujano decided to turn his efforts into a senior project.
With this project, Trujano's three main goals have been to learn more about the camp, learn more about the club and to raise money for camp scholarships.
Trujano's pursuit of his first two goals is leading him toward becoming a Young Life youth leader. In fact, Trujano recently attended a leadership training weekend, where he got to meet Denyy Rydberg, Young Life's president.
The training taught Trujano skills on talking with new people and connecting with teenagers. It also taught him about answering some of the hard spiritual and religious questions teenagers will ask.
For his third and final goal, Trujano plans to set up an inflatable bouncy house at this weekend's Cinco de Mayo celebration in Sunnyside to raise money for camp scholarships.
The bouncy house has been donated for Trujano's use by his brother, Jorge Trujano, who happens to own Jump N Joy Jumpers in Sunnyside. Trujano plans to charge children $1 for a preset amount of time in the jumpers.
All money raised from the jumpers will go to providing scholarships for teenagers to attend Washington Family Ranch this summer. Tuition typically costs around $400, which can be hard for some Lower Valley students to afford.
Trujano is happy that his senior project will give some of those students the chance step away from their normal lives, have fun and learn about Jesus Christ.