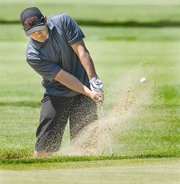 YAKIMA - It took all five CBBN league matches to finally get there, but the Sunnyside High School boys golf team finally clawed its way out of the cellar.
Playing their fifth and final 3A conference match of the season this past Tuesday, at the resort-style, par-72 Apple Tree course in Yakima, the Grizzlies for the first time this spring avoided bringing up the rear. Sunnyside notched a seventh-place finish from the eight-school field.
Sunnyside's 365 team score was six strokes better than the eighth-place finisher. Southridge won top team honors at Tuesday's league match, shooting an aggregate 307. Hanford was three shots back, at 310, for runner-up honors.
West Valley's Erick Gravbot claimed medalist honors for the day, carding a 1-under-par 71.
Sunnyside's Nathan Espinoza, the Grizzlies' low scorer, was just eight shots back of the Ram. Espinoza, beginning his day on No. 10, glided around the par-37 back side with a 1-over-par 38.
"Nathan had a great start to his round," said SHS Coach Gary Rohde, explaining that Espinoza at one point early on was two under. That was made possible by parring his three opening holes, then sandwiching a pair of tweeters around another par over the three-hole stretch from 13 to 15.
Espinoza fell off his torrid pace a bit after making the clubhouse turn, yet still pieced together a decent 6-over-par 41 on Apple Tree's par-35 front nine for a final score of 79.
Teammate Chandler Luther wasn't far back of Espinoza. Luther stayed consistent throughout the day, going 42-43 on the front and back nines for an overall 85. Luther's round included snaring a birdie on Apple Tree's signature, apple-shaped island green, No. 17.
Espinoza and Luther will be the only two Grizzlies moving on to the postseason. To advance into the playoffs, the CBBN's 3A golfers had to finish in the top 36 from the individual rankings list. Espinoza, said Rohde, was among the top 15 this season, and Luther finished just about on the button at No. 30.
Rounding out the Sunnyside team score this past Tuesday were the individual rounds of Nathan Meyer and James Voorhies. Meyer shot a 96 (43-53) and Voorhies, only a freshman who's playing his first season of organized golf, recorded a 105 (52-53).
The one and only member of the Sunnyside High School girls golf team, senior Renae Visser, closed out CBBN league action on Tuesday at Apple Tree by carding a 91 (45-46). Her round was only six strokes back of medalist Bri Hadler, who notched an 85.
Rohde said Visser didn't take anything over a 6 on any of the holes, and had five pars on the day.
Visser is seeking a third consecutive trip to the 3A State tourney. She ended up at No. 5 in this spring's CBBN girls rankings with a 91.2 scoring average in the five league matches. The top ranked female golfer this spring is Hanford's Taylor Kain-Godoy, who averaged 80.0 in the five league matches.
The 3A girls District tournament, just an 18-hole affair, will be held Monday, May 16, at Wenatchee's Highlander Golf Course.
Espinoza and Luther, and the rest of the 3A CBBN qualifiers, will play a 36-hole District competition the same day, May 16, at Pasco's Sun Willows Golf Course.