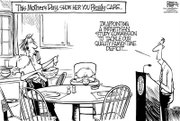 They are words designed to wound and when I was in my teens, I aimed them at my mother -
"I hate you."
My mother turned a steady gaze on me and smiled.
"That's okay," she said. "I still love you."
She could not have said anything that would have riled me more than those words. You see, I was mad. I wanted her to be mad, too. And I wanted to hurt her. Because in those selfish teen years, we all think that the way to get what we want is to threaten our parents with our love - to make them feel like they are the ones who failed.
But as I am the youngest of five, my mother had seen all those tricks. She knew my words were a lie and she responded accordingly. I could 'hate' her all I'd like, but she was going to love me anyway.
And that is just the sort of person my mother is. With five children and 10 grandchildren, she's been put on the hot seat too many times to count, but she has always come out better and stronger than before.
My mother is a real mother. She disciplines and instructs; she loves and patches wounds; she guides and advises.
She is not my friend. She is better than that. Her title in my life is the greatest honor I could bestow on another.
There are people in this world who don't know what it is to have a person like that in their life and there are plenty who have it, but don't recognize its importance.
On May 8, the moms of this country will get more love and attention than they get for the rest of the year, which is always far less than they deserve.
But along with those, we cannot forget that there are so many women out there who became mothers to children they did not have to. They may not have the biological rights to the title, but they have the honorary rights - adoptive moms and foster moms, grandmothers, aunts, sisters and even neighbors or a friend's mother.
The fact is, being a mother is more than just giving birth to a child. The honor is earned over time and with patience.
So even if you don't have a "mom" to honor this Mother's Day, take a look at your life and find that woman who patched your wounds, both physical and emotional; the woman who was strict and kind; the woman who gave advice and didn't care when you didn't take it.
Find the one who you fired an "I hate you" to and that was okay, because she still loved you.
More like this story