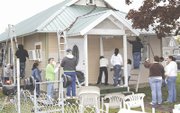 On Saturday, May 14, more than 150 volunteers will show up to paint and clean up six more homes in the Sunnyside community.
Why do the volunteers show up? Why are individuals choosing to support this activity coordinated by a group called Loving Sunnyside Initiative, which is beginning its third year?
It's not about the numbers - impressive though those are: 29 houses painted in 2 years; more than 75 young people involved in painting and cleaning up those houses; more than 150 adults who came to clean up yards, scrape and repaint houses, and make and deliver snacks and lunches to those workers; and hundreds of dollars each time donated to pay for costs so the residents don't have to.
Numbers are subjective in one sense; some are totally impressed by all those numbers while others just shake their heads and bemoan the fact that there are so many other houses that really need it too, so why bother?
No, it's not about the numbers. It's all about the people. It's about those young people who first signed up to work so they could get the service hours required by their schools or by juvenile courts, but then who came the next time just because they were so unexpectantly uplifted the first time.
It's about the kitchen workers and painters who went home so exhausted at the end of the six hours but yet had to take a drive that evening to see all the fruits of their labor.
It's about the landscaper who stopped to ask at one of the houses what was going on and when he heard, he went around to all those houses and trimmed and mowed the yards that same day, gratis.
But it is mostly about the people who have been the recipients of the love and generosity of those who gave.
It is about the family where the young son took on as his school project cleaning up and repainting his family home only to run out of funds before the project could be completed. When the crew from Loving Sunnyside came to help him paint the house, the young man, his mom and two younger siblings spent the day working right alongside the volunteers.
It's about the injured Vietnam vet who can now get into and out of his house because of a cleaned up yard, wheelchair ramp and newly painted house.
And it's about Mabel.
Mabel is 99 years young! She was born in Iowa and then, as a small child, moved to Montana. Her father delivered groceries by horse and buggy. But when the Model T's became available to the general public, who could then get their own groceries, Mabel's parents decided to go west.
They loaded up food and other belongings into a covered wagon and "just started out on an unknown journey" with no final destination in mind.
The family of five girls and their parents traveled across the mountains and when they came to the Palouse country of Washington, they "just stopped" and found work.
Eventually Mabel came to Sunnyside to care for one of her sisters who had married and moved here. Mabel recalled years of dust, "bull flies" and mosquitoes. She remembered washing sheets and hanging them outdoors only to have them get dirty again because of those pests.
She remembered dust storms and "rabbits that were so plentiful you couldn't go into town without hitting some."
She remembers having to sell a cow to pay the rent; she remembered working in the cherry packing houses from 7 a.m. to 10 p.m. for 15 cents an hour.
And she proudly showed off her home - a house moved from the Hanford range to make way for the reactors. She now lives there alone, never having been able to have children and with all her siblings deceased.
Mable, and all the homeowners and their families are what the Loving Sunnyside Initiative is all about. It is about human lives touched by the generosity of others. It's about the volunteers who are so blessed by giving that they come back over and over to "do it again," sometimes bringing their grandchildren with them to pass the torch of giving to the next generation.
It is about the tears in Mabel's eyes as she pondered aloud why people she didn't even know would do this for her.
It's about using the gifts and abilities we have been given to help, encourage, and care for others in our town.
It is about community.
Anyone and everyone are invited to be part of these clean up and painting days.
People can be part of the activity by showing up Saturday morning, May 14, at 7 a.m. at Sunnyside Christian High School for breakfast.
At 8 a.m. they will join a team of others to transform one of the six homes to be cleaned up and painted. There will be snacks and lunch and at 2 p.m., participants will be part of that group admiring their contribution to making the community a better place to live.
For additional information about this project call 952-5650.