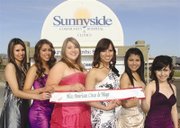 The stage is set for tonight (Friday) as six Lower Yakima Valley ladies will vie for the title of Miss American Cinco de Mayo 2011 in Sunnyside at Centennial Square at the corner of Sixth Street and Edison Avenue.
The opening ceremonies begin at 5 p.m. with the pageant getting underway at 6 p.m.
The competition will be judged in three categories; interview (50 points), talent (35 points) and evening gown wear (15 points).
Diana O'Campo, 17, of Grandview will perform a dance for her talent. Angelita Rodriguez, 17, of Mabton will be singing for her talent portion. Yaneli Martinez, 17, of Toppenish will give a speech. Samantha Arola, 18, of Sunnyside will sing. Esmeralda Sanchez, 18, of Grandview will dance for her talent and Betsy Robledo, 18, of Toppenish will give a singing performance.
The pageant is the brainchild of Sunnyside Community Hospital employees Ruby Palencia, Sylvia Garcia, Rosemary Mendoza, Tina Mortensen, Patricia Combs and Dr. William Combs, all of who work at Sunnyside E.N.T. Allergy, Audiology.
The reason for the pageant, said Patricia Combs, is to help celebrate the Sunnyside Chamber of Commerce's Cinco de Mayo festival.
Combs said she believes in giving back to the community and knows firsthand the importance of helping young ladies overcome obstacles and gain the confidence to speak in public.
Saundra Combs, the daughter of William and Patricia and current reigning Miss Hollywood, Calif., will handle the master of ceremonies duties for the pageant. She will be competing for the title of Miss California in June, and if she captures the title, will then compete for the title of Miss America next January in Las Vegas.
The Sunnyside Lions Club will also be helping out at tonight's pageant.